Call Centers: The Forgotten Target in Cybersecurity
Call Center Fraud Increased 113% Learn How to Keep Your System Protected
Organizations today exist in an omnichannel world. Unfortunately, many of them have focused on protecting their online channels at the expense of their call centers.
Call fraud is on the rise, which means call centers need to take the proper steps to ensure their customers` information is secure. But frequently those tasked with call center cybersecurity are simply overworked, understaffed, and outmatched by the technical challenges of maintaining the highest level of cybersecurity.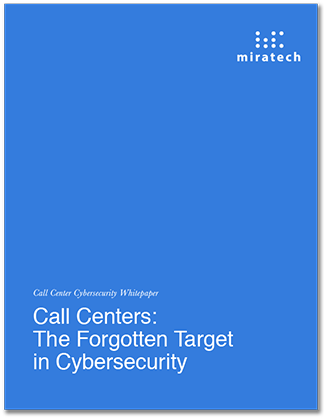 Among the challenges they face:

Uncertainly their Genesys environment is secure and an inability to monitor it properly

The threat of data leakage and its potential impact on their business

How to withstand Telephony Denial of Service (TDoS) attacks and what to do should it occur

The absence of sufficient skills among their team to ensure their Genesys platform has been set up correctly and there are no cyber threats while it`s operating
Fill out the form to get the full call center cybersecurity whitepaper now:

Ken Conrad
PS Regional Manager, Genesys
Miratech partnered with Genesys to design and implement a technology solution to increase customer satisfaction at a large financial institution. The combined project team spent two months on site at the client's headquarters, finishing on budget and ahead of schedule. Both the client and Genesys are delighted with their contributions, expertise and professionalism. We look forward to future engagements with Miratech to help joint clients deliver great customer experiences.

Miratech is one of many outsource partners that's helped Genesys grow to more than $850 million in revenue by developing program applications, deploying products, and working with their end users, among other things. We've worked to make Miratech part of the team. They get our evolving needs, and they're flexible in their business model.

Slava Zhakov
Chief Technology Officer, Applications Group, Alcatel-Lucent
Miratech has become our supplier in 2000. Over more than 10 years of our cooperation Miratech has delivered dozens of high complexity projects for Alcatel-Lucent. Miratech delivers its services on time and within quality requirements. Miratech successfully attracts and retains highly competent engineers for our projects. We are very satisfied with the work that Miratech has done and we plan to continue our cooperation in the future. I have no doubts recommending Miratech as a competent provider in its market segment.