The Top Six Criteria for CX Managed Services Partners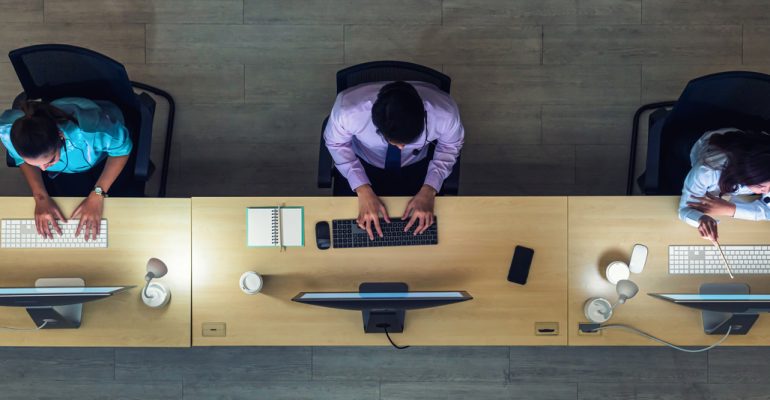 The Top Six Criteria for CX Managed Services Partners
In our last blog we talked about why organizations are now leveraging Managed Services to optimize Customer Experience (CX). We looked at how it can put businesses on the inside track to continuous improvement and competitive CX. Plus, why in-house support solutions tend to fall short.
But not all Managed Services Providers (MSPs) are created equal. Especially when it comes to CX technology. So, once you're ready to solve your CX support issues by working with an MSP, you'll need to choose the right one.
Use the top six criteria to discover the best CX Managed Services Partner for your business.
Recognized CX integration and support product knowledge
You're probably already thinking about leveraging an MSP who knows your CX product, and the CX product provider. You'll be looking at technology partners who understand how to design CX environments, integrate products and support operational environments. But make sure you ask about their experience in alternative CX software solutions too. Finding out how far their 'hands-on' credentials extend is a critical first step. It helps protect your investment longer term, as you can leverage more flexible access to 'best-of-breed' technology as it advances. In our experience connecting to this leading-edge approach can give you the potential to solve cases around 60% faster than most in-house IT teams.
Independent CX ecosystem support
In addition, ensure you scrutinize your MSP's CX ecosystem. You're not just looking for a support partner backed by a global network of successful partnerships with the leading software providers, like cloud-based providers like Genesys, Google, Five9s, Cisco, Amazon Connect, IBM, and 8×8. You need to make sure you explore the nature and longevity of key partnerships. You can check whether your potential MSP is a license reseller or a solutions provider for one, more, or all the major CX software providers. Ask about their level of independence and how they approach solution delivery. This will help you adapt and optimize your support approach for your business, rather than limiting the solutions you're offered.
Proven methods and 24/7 follow-the-sun expertise
If you want to be able to get the most out of what you have, as well as benefit from new functionality then choose a support partner who has already developed the methodology to ensure consistent, secure, and timely changes at scale. Check they have flexible expertise in place which already works within a proven framework. One that enables you to keep pace with the increased levels and speed of change inherent in large-scale and complex CX environments. Can they provide global 24/7 follow-the-sun support if needed? Can they explain what methods they're using, or have developed and can they confirm whether what they do is aligned with industry standards?
Demonstrated ability to respond quickly
With technological change accelerating faster than ever in the CX space, being able to respond quicker to change is paramount. Get references of your potential partners ability to react effectively and securely to changing customer, market, or process needs. Ask for examples of work where response times have been paramount. And check how they are already helping clients to be responsive when it comes to maintaining and continuously improving CX performance.
Experienced in understanding business benefits
While your MSP needs to take care of the technical detail, don't overlook the benefit of working with partners that understand the business imperatives. Always remember that your CX solution is a business enabler – it's delivering the business vision. Its purpose is to facilitate your organizational ability to achieve goals and grow profitably. So, make sure your potential support partner can demonstrate clear business understanding, as well as technical capability. This helps you leverage more 'value-add' from working with partners who get the market context and business benefits which the technical 'nuts and bolts' are there to deliver.
Start small and grow together
Finally, be prepared to start small and grow together. After all, Rome wasn't built in a day and your whole support approach doesn't need to be either. You can always start with one aspect of your support model or one business area and develop a model with your support partner which is optimized for your unique organization. This is a great test of whether they're the right fit for you. Having prioritized items, you can focus on key metrics you'd like to see improved. This keeps you and the partner focused on objective criteria to gauge success.
In Summary
When it comes to selecting a Managed Service Provider to optimize your contact center performance – it's not only the knowledge and experience that counts.
Miratech works closely with many leading CX solutions providers, globally. Behind the scenes we're the ones trusted to accelerate deployments and provide ongoing optimization. This is the reason why our Managed Competence Center is the preferred choice for organizations who know that operations support doesn't just start and end with break/fix management. It's trusted by businesses looking to align their technology and digital transformation roadmap with their business strategy and objectives.
Attaining and maintaining operational efficiency with CX technology is an ongoing journey. Your Managed Service Provider Strategy will dictate whether you get there in weeks or years.
Be sure to use these six criteria to help guide you.
Need advice or help supporting CX technology? Book an informal chat and learn about our approach to a cost-effective, managed care program that accelerates your journey.
Connected CX Managed Services info@miratechgroup.com.