The Perfect Balance Between Business And Technical Consulting For Your Genesys Implementation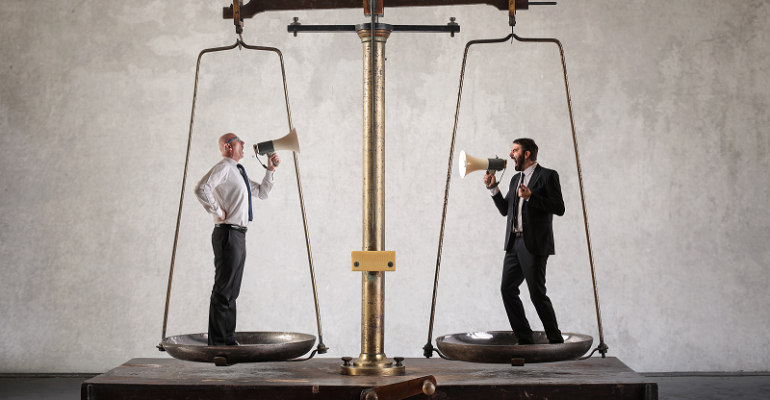 The Perfect Balance Between Business And Technical Consulting For Your Genesys Implementation
When you're implementing a new IT platform for your business, you need to focus primarily on technology, right? Wrong. Even though your platform involves a technological evolution, you'll also need business consultants to help you gain a deeper understanding of your objectives and how to achieve them, taking into account the new IT platform. With customer needs constantly changing and technology advancing quickly, you need to make sure your business and IT teams collaborate effectively to better serve your customers.
The Business Side
When you start using Genesys Engage for your contact center, you need to be prepared for how your everyday business practices will change. Genesys transforms the customer experience, so it's important to have a vision of how you want your business processes to improve and evolve. Take for instance, your employees' customer relationships – now that you have the new technology, you need to determine at a higher level how this will change your agent-customer relationships.  Will your customers reach out to agents more frequently or will they be better equipped to self-serve with automated tasks? Will information be available more quickly to expedite the interactions? All of this will change when you implement Genesys, so get ready to recreate your business model. You need to get the right people on board to help you take advantage of new opportunities that arise as a result of implementing Genesys.
You'll want all of your business teams to work together – top management, marketing, workforce management, contact center leadership, and business processes teams. For instance, your top management should be collaborating with the marketing team to ensure that projects are completed efficiently and that your message is always getting through to the customers.  At the same time, you'll want your workforce management and business processes teams to collaborate to redefine the workflow and determine the steps involved for your agents to ensure a positive customer interaction.
The Technical Side
Of course, your Genesys platform comes with technical challenges that you'll need to address, so you'll want technical consultants working with you and your agents throughout your Genesys implementation too. How did your agents' desktops change? How do the front and back office communicate? Which tasks are automated? You'll need to answer these questions and that requires a cohesive technical team.
All of your technical teams need to work together to ensure that the new technology is working efficiently and that your agents are proficiently utilizing it to its full potential. Make sure that your IT and agent desktop teams pool their resources so your agents' omnichannel desktop is customized to your specific needs. Have your business intelligence team work with your ACD and CTI team to ensure seamless connections between your customers and agents by analyzing data in real-time. Your queuing and routing rules management team will not only manage the order in which customers will be served, but also be involved with the IT team's efforts to keep the technology running smoothly. The combination of data analytics and technology needs to be perfect to ensure that your Genesys implementation runs according to plan.
Finding Your Equilibrium
You need to understand every aspect of the new technology – the specific capabilities, the new response time, and the workflow – but you also need to fully grasp how the technology changes your business expectations and benchmarks. Will you expect your agents to handle more customers in a specified period of time? Will you customers expect more individualized service? This is when the business consultants come in.
Your business and technical teams are no longer in separate siloes. You'll want to find the perfect balance between business and technical consulting for your business in order to utilize Genesys to the fullest and achieve your new vision for the evolved customer experience. You're looking to add the most value to your business without the high costs that are sometimes associated with these services.
What You Need
You need to have two important things to get your consultants ready to make changes for your business:
A clear vision – You need to know exactly what you want to achieve with your new technology. What message do you want to share with your customers? What results do you anticipate? Every contact center needs to know the company's overarching goals, who they're targeting, and how to keep customers coming back. Genesys will help you achieve your vision, but it needs to be clearly defined so that all your efforts are directed toward a common goal.
A cohesive delivery team – You need to have a team working towards the vision that you imagined. Who is going to provide the services to the customers? Who is going to spread the word about new products? How are the team members going to work together to ensure that the job is done correctly? All of those questions must be answered if you want your Genesys implementation to run smoothly. You can't be efficient without the proper team backing you up. As we noted above, your business and technical teams will need to cooperate and build off of each other's strengths to bring about the best results for your Genesys implementation.
Getting the Right People On Board
Now that you know a little about the balance you need to find between business and technical consulting, the next step is knowing who can help you the most.  There are two specific areas that you'll want your consultants to excel in:
Knowledge – You want your technical consultants to know everything there is about the new technology and how it works. They should also have knowledge of how the technology was developed, how it can be customized, and what add-ons are available. This is particularly important when implementing Genesys because there's a lot of history behind the technology, and it's complex. Take for instance the omnichannel desktop – you'll want your agents to understand exactly how they can retrieve all the information they need now that it's available on a single interface.
In the same respect, you'll want your business consultants to have extensive knowledge regarding management services and how exactly Genesys revolutionizes your business model. Make sure you have the most knowledgeable people working for you to start your technological evolution and see it through.
Expertise – Your consultants need to be highly skilled if you want your Genesys implementation to be a success. They should have a proven track record of implementing Genesys successfully for prominent companies. You want them to prove to you that they can make Genesys work for your business.  Ask potential consultants how many years they've been working with the technology, if they have experience working with the platform's engineers, and who they've implemented Genesys for successfully. You need the technical expertise to get the most out of your Genesys platform.
What Consultants Can Do For You
When considering the purposes of business and technical consulting, it might be helpful to think of a hierarchy.  At the base of the model, you'll find traditional commitments – providing information, solving problems, diagnosing an issue, making specific recommendations, and assisting with the process of actually implementing those recommendations. When you're implementing Genesys, you'll want your consultants to do all of this; you want a strong core.  This comes back to the vision we talked about earlier – you need to see the overarching goals for your business and utilize the consultants to help you achieve them.
In addition to those core services, you'll want to find consultants who can provide even more.  For instance, building a commitment around the new practices, showing you the solutions to common problems so that you can solve them in the future, and improving your workflow so that your business is more effective, are all additional purposes of business and technical consulting.  Those are the extra things that will put your company ahead of its competitors.
Miratech Provides the Optimal Balance
At Miratech, we have both the knowledge and expertise you're looking for. We offer both business and technical consulting services to help you implement Genesys successfully and fulfill both the traditional and additional purposes outlined above.  We'll provide you with the combination of technical and business consulting that creates the greatest value for your company at an affordable cost.
When you choose Miratech, you're choosing efficiency, expertise, streamlined processes, and collaborative work. Two of our tools, ControlCX and Cyber CX, can specifically help you with your overall business management and cybersecurity needs, giving you the perfect balance of business and technical consulting services.
We've worked with Genesys engineers developing the platform and implementing it for Fortune 100 companies over the past 20 years.  We know the platform better than anyone, so it only makes sense to let use lead your business. Let us help you transform your company's business and technical teams' relationships today.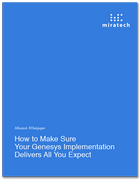 How to Guarantee Genesys Implementation
Find Out Now