The CX Benefits of Gamification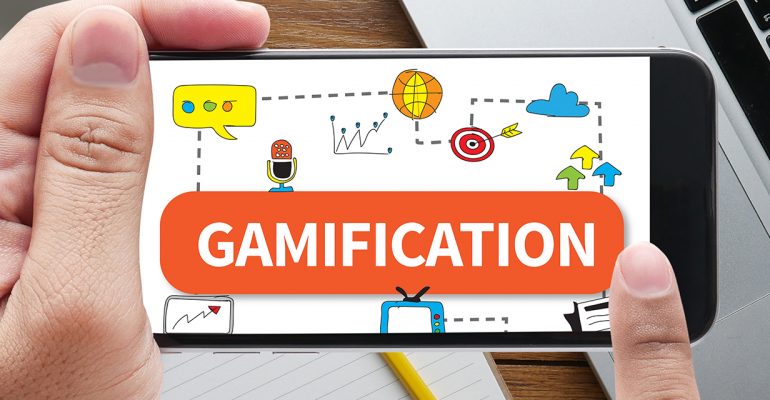 The CX Benefits of Gamification
Find out how gamification can transform your customer and employee engagement
Gamification is not a new concept, however the number of applications using it, across multiple sectors, is accelerating exponentially. This is because of the positive impact it has on customer and employee engagement.
Gamification is the buzzword for bringing competitive and fun elements into digital transactions, based on the psychology that people are happier and therefore more engaged when they're challenged, rewarded, given choices, and able to grow.
SMART watches are a great example of gamification in our daily lives. They reward us for standing up and are adept at encouraging us to take more steps. Sounds, vibrations, messages, and stars all interact with our responses to guide us on our fitness journey.
In this expert Q&A, Erik Delorey, CX Leader at Miratech, shares his invaluable 30 years of Customer Experience (CX) to reveal how gamification can be used to benefit your organization. He explains how Augmented Reality (AR), and Virtual Reality (VR) transforms customer and employee engagement and drives business growth.
Understanding Gamification
Is gamification important for effective digital transformation?
Yes. The recent lockdowns have accelerated the demand for gamification because consumers and your employees now want to do as much as possible digitally and gamification can make that digital experience an intuitive and engaging one.
Can you explain the difference between AR and VR?
AR technology offers augmentation to an existing reality. For instance, it can use overlays on an existing image to enable a user to make a more informed choice.
Typical examples include choosing between different eyeglasses, make-up colours, and clothes, based on how they look on an image of you. It can enable a user to add different style furniture, or a coat of paint, digitally into an image of their room, which helps them to select their preferred choice.
Also, AR can be as simple as an overlay on a web site's interface that entices the user to find and explore various self-help options available to them from a more curated experience.
In contrast, VR technology simulates a completely new reality using devices which offer 360-degree experiences. For example, this could include bringing a team together into a training or breakout room. Engineers can review a 3-D model of a new product 'virtually'. You can simulate the experience of walking around in a potential new home or having an immersive experience in a choice of dream destinations before you book your next holiday.
Choices can be made without ever leaving the comfort of your own home.
Customer benefits
Sounds like gamification makes life easier for customers.
It does. There are lots of potential customer experience benefits for customers with it. These virtually endless application options are why gamification, and its supporting technologies, offer a paradigm shift in how the world of consumers can engage with products and services.
Its ability to tailor the eMarketing experience to the consumer, in their chosen space, makes it so much easier to:
Personalize your service and products to your customers' individual needs
Engage and build rapport with many more customers
Cut return rates and the negative impact on the bottom line
Scale your business profitably
Turn customers into brand advocates with social sharing
Encourage and entice customers into exploring and using self-service capabilities
Think about this scenario …
Instead of visiting a local store, a bride can choose the wedding dress digitally through AR. They can then instantly share the images and the decision-making process with close family and friends, wherever they live. Add in VR and the family could join the bride at the store for an immersive 360-degree experience.
Employee benefits
And are there lots of employee benefits too?
There are many motivational benefits from using gamification technology and techniques for your employees.
Often, customer experience staff require an agile training and development which operates at scale. Gamification is a great way to optimize how these employees perform, even when they're working remotely. The employee benefits of gamification enable you to:
Onboard more quickly and effectively
Motivate the delivery of better customer experiences
Continuously train and upskill your employees
Train at scale for more agile and profitable growth
Help your employees to adhere to the latest procedures and be brand advocates
Achieve a higher rate of adoption and continued use of the best possible path.
Sounds like gamification is great news for employees!
It is, because gamification can turn difficult jobs into positive experiences and when we're enjoying what we do, we're more likely to succeed.
Plus, it's easier to retain information exchanged when you're getting automated feedback on your progress and work. For example, instead of sharing every new procedure at once, information can be digitally presented when it's needed. This enables the employee to do the right things at the right time, within the process. Most of us learn more easily through applying knowledge, hence why this approach is so effective.
Sounds, directional arrows, and point-based systems can keep the user focused and engaged. Meaning they can learn while simultaneously working through a process designed to boost efficiencies and lower costs.
Never underestimate the competitive drive that humans have to unlock achievements and goals within a gamified system.
Gamification solutions deliver more engagement at both the individual and team level. They can offer support, encouragement and rewards to enable employees to grow, as well as help the business thrive.
Gamification Engagement
Can you provide an indication of the scale of adoption?
Sure. In one of our recent M-Talks focused on gamification, specialist game producer Levon Demurchyan indicated that 90% of executives from large firms confirmed in a recent poll that they were either using it or planning to use it.
What technologies are organizations using for gamification?
Engaging people digitally is getting harder as we all have increasingly short attention spans.  Gamification can be as simple as using a scoring system which drives the end user to explore the digital interface, or images and sounds that are played when the end user accomplishes a desired behavior.
Alternatively, your approach could benefit from more sophisticated augmented reality or virtual reality, integrated to create a digital experience that curates or guides your end user through a desired path into a successful outcome.
There are multiple ways to offer enticing gamification solutions that drive digital decision making and enhanced customer experiences.
Taking Advantage of Gamification Opportunities
In summary, is it fair to say our changed habits and preferences have made gamification a strategic priority enabled by advances in technology and open integrations?
Yes. Gamification can be key to driving growth by enhancing customer and employee experiences which work at scale. Meaning organizations that adopt and optimize these solutions become more competitive.
What next?
Miratech is an award-winning global technology company which specializes in successfully transforming customer experiences. Our people lead the way in the design, implementation, and support of projects that benefit from gamification and leading contact center technologies, such as Genesys, Five9s, Amazon Connect, and 8×8. If you're ready to take advantage of gamification opportunities and boost your CX, then talk to us today.
Engage us to engage them info@miratechgroup.com