Putting customers off with narcissistic chatbots?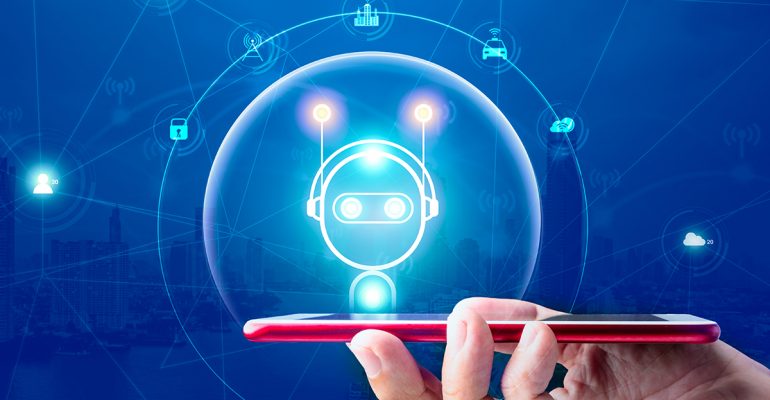 Putting customers off with narcissistic chatbots?
Six key traits and how to fix them.
Your chatbots and voicebots often play an important role in delivering a great Customer Experience (CX). However, they can be a source of frustration and negatively impact your CX if not programmed correctly and continually optimized. Without careful planning and follow-up, it's easy for bots to seemingly take on narcissistic traits that no one will appreciate.
Ask yourself, are your bots' conversations more about them than your customers? Does your programming approach make them appear perfectionist and controlling? Are they demonstrating empathy to your customers, or do they seem to seek admiration for their achievements? How responsible are your bots for delivering that all-important positive customer outcome, or do they appear a little superior?
We know chatbots and voicebots can transform customer service center capabilities. However, you need to eliminate the narcissism if you want your self-service to delight your customers and deliver the cost efficiencies that will enable your business to grow competitively.
Here are the six key narcissistic traits to look for and how to fix them.
#1 Perfectionist (inflexible)
You'll instantly recognize the perfectionist bot. It takes a 'my way or the highway' approach to the conversation.
Perfectionists provide a rigid set of choices, and if your customer doesn't think these are right for them and veers away from what's expected – which is going to happen – the bot will not flex. It will reiterate the information they require to proceed. In many cases, the customer will not be able to meet the perfectionist's expectations and the process will stall.
Disappointing the perfectionist is unsatisfactory for both your customer and your organization too. The customer is likely to request a human agent instead, immediately cutting the cost benefits of the bot technology and putting unnecessary strain on limited agent resources.
Sometimes there are obvious fixes. For example, are you asking for two pieces of data at once? Maybe, if you present the questions individually, the customer journey can be resolved successfully by your bot. Or is the inflexibility a result of always expecting accurate data entry and not having enough logic and error control to overcome data entry issues?
You can cut out the perfectionism and keep improving your flexibility by enabling your bot to mature via a managed learning approach and continuous improvement.
#2 Controlling (lack of choice)
People will naturally feel more positive towards your bot and your brand when they are getting the responses they're looking for, rather than potentially feeling coerced by a virtual agent restricting and controlling their choices. Like perfectionism, a lack of choice arises from a lack of flexibility and deployed learning capability, which can make your bot appear very controlling.
Outstanding customer experiences happen when the customer is getting what they need. So why not put the customer back in the driving seat by leveraging Artificial Intelligence (AI) and the data insights available within your CX technology platform? Again, ensure you have a managed learning process in place to continuously identify variations and adapt your processes to meet your customers' changing needs.
Directed dialog menus, like the one pictured below, are nice features, but they will limit choices and prevent your continuous improvement program from continuing to improve if you cannot capture the 'unknown intentions'.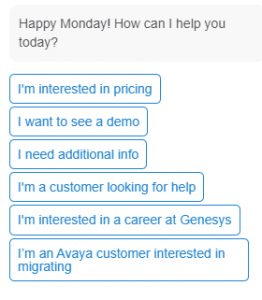 Above: While helpful to narrow down choices, the above chatbot menu doesn't allow the customer to express any other intentions to be made known or satisfied.
#3 Seeks admiration (irrelevant info while waiting)
Does your voicebot seek to make a big impression by informing your customers of all its achievements?
For example, are you telling customers, while they're waiting, how many claims have already been settled this week, or queries resolved this month, or how the queue wait times have already been cut by X%?
Although it's tempting to share your achievements, don't let your bot run away with this style of bragging. Your customer won't admire you for it. Remember, they're stuck in a queue and will want information that relates to them specifically, such as their own expected queue wait time.
They'll appreciate choices, like the ability to leave a message or arrange a scheduled call back. This way you can ensure the bot is addressing your customers' needs through the channels they prefer.  Chatbots and voicebots should endeavor to demonstrate your business values your customers' time through action, rather than seeking admiration for your recent improvements or for how hard your people are working.
#4 Lacks empathy (doesn't acknowledge customer's situation)
Are your bots empathetic to your customers' challenges or does the process they're using communicate a lack of care and consideration for their needs?
Saying or writing the message that you value a customer's time, while continuing to keep them waiting, will simply add to their frustration. Don't just say you appreciate a customer's patience, show you do.
For example, gather additional information to keep customers engaged. You may be able to accelerate resolution with their valuable time by double-checking key information. Maybe you can acknowledge the frustration and issues they are facing?
Learn from human-to-human conversation scenarios to discover more about how empathy can be programmed and effectively expressed and received.
Consider leveraging sentiment analysis to guide the language you use, and even set the respondent tone for a voicebot. Incorporate options that meet customer needs, such as callbacks and other helpful resources. Advances in AI and data insight capability provide the tools to add more empathy – make sure you use them.
For example, in the screenshot below, the bot doesn't attempt to narrow down a scope of information, 'brushing off' the customer to a generic link.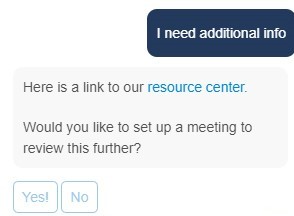 Above: Keeping topics general and driving traffic to an 'all-in-one' webpage may be counterproductive to your customers' ongoing engagement. Instead, you could ask about their role, or the subjects they're interested in and filter the material accordingly at the outset.
#5 Superior ('it's about me, me, and me')
Once the 'chat' is closed, do you ever appear a little superior by immediately deploying a 'now let me know I've done a great job' survey?
The customer experience is still front of mind, but beware the timing and the restricted questions that are often aimed at the response you want. Don't increase the feeling that this experience is more about your organization, rather than meeting the customers' needs.
In fact, the availability of sentiment analysis in mainstream CX technology can often answer the questions you'll be asking. In our experience with clients' data, the sentiment analysis is an accurate reflection of the bot experience. When compared with this sentiment analysis, it's very common for survey respondents to either bend the truth positively, as they don't want to offend, or bend the truth negatively, to gain compensation or a different outcome.
Follow up with one or two bot-controlled messages to your customer, but don't miss the opportunity to think about what you could offer customers that will enhance their experience and potentially open more revenue opportunities with them.
#6 – Lacks responsibility (or is being relied on too much)
In our experience of reviewing bot performance, we see that while many self-service implementations utilize about 80% of product features, they don't scrutinize them hard enough. This means that around 50% of implementations we've been asked to review have not benefited from best practice, right from the early design stage. This means bot workflows are more likely to fail and your customers will keep coming back to the already overlong and costly human agent queue.
Although many self-service features are straight 'out of the box', making your bots responsible for closing queries to your customers' satisfaction requires deep dive thinking right at the start. Which is why you need to invest in more 'white board' time with CX experts and stakeholders to understand in detail your customers, your business, and the CX self-service vision. This is a proven way to develop bot technology that delivers on all its promises.
In summary
If you recognize any or all of these narcissistic traits in your bots and don't take steps to change them, you risk driving customers away and damaging your future business.
You don't need to do that because the good news is that with Miratech it's easier to change than you think. Partner with us and you'll learn, adapt, and grow quicker. Partner with Miratech and you'll impress your customers, contribute more to your bottom line, and drive ambitious growth.
We're specialized in helping global enterprises and entrepreneurial start-ups to not only remove narcissistic bot behavior for good, but more importantly leverage the full benefit of self-service technology for transformational results.
Don't let your bots kill your CX info@miratechgroup.com