Project Rescue Case Study
Miracles Do Happen!
In 8 short weeks, Miratech helped perform a miracle to get operational a 12,000 concurrent call sessions workflow! This was 50% above the required 8,000 benchmark.  See how from architecture planning to call distribution and in-que feedback Miratech's relentless performance exceeded expectations and deliverables.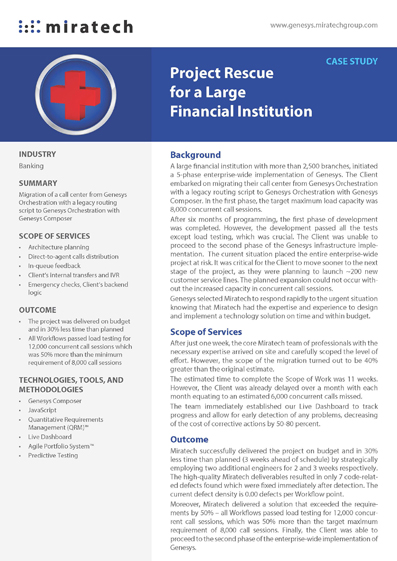 Ken Conrad
PS Regional Manager, Genesys
Miratech partnered with Genesys to design and implement a technology solution to increase customer satisfaction at a large financial institution. The combined project team spent two months on site at the client's headquarters, finishing on budget and ahead of schedule. Both the client and Genesys are delighted with their contributions, expertise and professionalism. We look forward to future engagements with Miratech to help joint clients deliver great customer experiences.

Miratech is one of many outsource partners that's helped Genesys grow to more than $850 million in revenue by developing program applications, deploying products, and working with their end users, among other things. We've worked to make Miratech part of the team. They get our evolving needs, and they're flexible in their business model.

Slava Zhakov
Chief Technology Officer, Applications Group, Alcatel-Lucent
Miratech has become our supplier in 2000. Over more than 10 years of our cooperation Miratech has delivered dozens of high complexity projects for Alcatel-Lucent. Miratech delivers its services on time and within quality requirements. Miratech successfully attracts and retains highly competent engineers for our projects. We are very satisfied with the work that Miratech has done and we plan to continue our cooperation in the future. I have no doubts recommending Miratech as a competent provider in its market segment.