Measure Seven Times… To Avoid Genesys Implementation Failures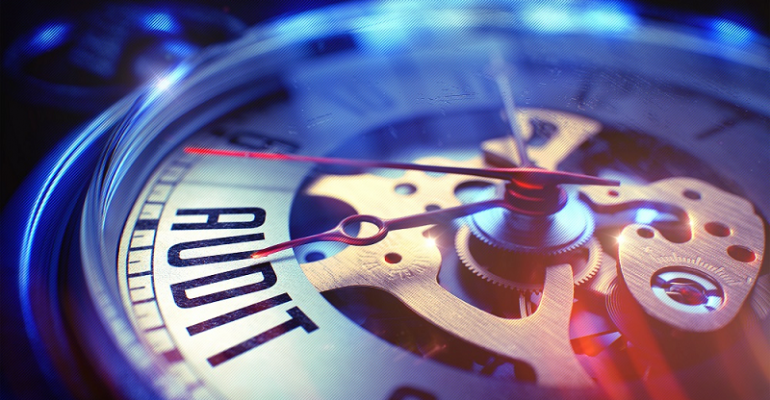 Measure Seven Times… To Avoid Genesys Implementation Failures
You're halfway there. Your company has created a shared vision to optimize the customer experience, and the Technical Team has developed an architectural and implementation plan to execute the vision utilizing Genesys Engage. So, how can you guarantee that your team successfully reaches your objectives and stays on budget? By relying on the proven "measure seven times" methodology. The old adage – "measure twice, cut once" – is simply not enough when you are preparing for a complex technical project, such as a Genesys implementation.
The process to actually measure against seven variables is used to virtually eliminate Genesys implementation mistakes and assure a seamless integration.
To set the stage for success, the measuring is done during the planning and roadmap development process in order to discover the most effective and efficient way to execute every feature by reducing the number and complexity of tasks. There is always more than one way to reach an end goal – and, if you limit the analysis of feature delivery options, you ultimately risk extending the implementation, adding unnecessary complexity and cost, and even total failure. It is essential to compare each Genesys or third party feature solution against a broader set of criteria to insure optimal team performance, expedited execution and lowest cost per deliverable.
What Are the Seven Variables to Measure Against?
The Rule of Seven is not a fabricated formula; it is actually a result of the Statistical Process Control discipline of Quality Management. By testing seven times, you determine if your processes are on target. Miratech uses this "sample size of seven" as a rule of thumb, the data serving as a guide to make necessary adjustments toward achieving success. While there are at least 30 indicators you should measure against, here's a look at what we believe are the Top Seven to cross-check while planning your implementation.
Vision
To reach your final business objectives around the Genesys implementation, all stakeholders need to share a common vision on the structure and outcomes of the new CX solution. Top management, CMO/CXO, contact center leadership, CIO/CTO and especially business process improvement teams all need to be in sync and working towards a common goal. During the CX visioning stage, it is imperative to determine how your organization will adapt the current business processes in order to prepare for the new ways business will be conducted and how each department, team member and leader will interact with the digital transformation of the contact center and customer experience.
Measuring against the shared vision will identify gaps and any disconnect between technical and business teams as well as managers and users, ensuring the highest ROI is achieved on your Genesys investment.
Roadmap/Sequence
Planning the order of executions for your implementation is all about short-term wins and accelerated ROI. The base Genesys platform has the critical features you want that will generate the greatest ROI. If you build this foundation correctly, everything else you build in the future will be much easier. This single issue of building a robust platform foundation, is what Miratech finds has been underdeveloped in the work we do for our Project Rescue program.
Having the Omni-channel experience is a huge effort that takes years to implement. So, focus on essential functionality first. After you're generating positive feedback and ROI, then begin to work through the more complex features (functionality) and customizations. For example, you should start with core routing functions (including using customer history), but in your move to predictive routing, you will add the AI into the mix, eventually looking at other features like Chat Bot and NLP.
"Over 50% of time should be spent building the foundational functionality… This makes integrating the innovative functionality much easier and quicker."
More than 80% of the functionality and requirements that most organizations need or want from their Genesys platform are standard within the system. Start by tackling foundational issue like single routing and reporting engines. The other 20% of necessities are typically custom functionalities requiring more effort, skill, knowledge and tools. These can add up to delays in the implementation and may hold up some highly functional valuable features on the roadmap, if sequenced incorrectly.
Complexity
Evaluating the complexity of each feature by task level will allow you to select the optimal feature at a lower cost per deliverable. For example, any one of say, three distinct features may provide the same functionally required and meet the business and technical teams' specifications. But, the complexity to integrate, customize and configure between the features may be greatly different. This is where the expertise from Miratech's technology teams really help measure the real cost of your development project, helping to reduce the complexities while ensuring all selected features meet precise requirements.
Resources/Skills
When strategizing during the planning phase, it's imperative to assess the skills and resources that are necessary to meet the complexity needs of the Genesys implementation, and who is capable of accomplishing each task. There should be a balance of technical and business competence on the team; qualifying internal resources and evaluating outsourcing requirements is essential. Once specific functions are assigned to appropriate leaders and staff members, there may be a need for requisite training. Proper governance should be in place to oversee this effort to insure optimal efficiency. You'll also need to appraise available tools and materials to best utilize them and determine any insufficiencies or shortcomings.
Size
Size is a basic, measurable component of software. The ability to calculate size is essential for further estimations and tracking, and ultimately the success of all future projects. Although there are no standardized methods of measuring size for Genesys implementations, we have developed a sizing methodology based on ISO/IEC 20926, called "Genesys Function Points". These standards for size measurement are objective, verifiable, and dependable. One of the most important advantages is access to data history from completed projects. Based on past data, you must create a two-dimensional taxonomy: one dimension is a comprehensive list of required activities, and the second is a level of complexity depending on multiple applicable parameters and business cases. Miratech uses this in 100% of our work and its functionality enables us to achieve a 30% higher delivery efficiency than the industry average.
Time/Cost
When it comes to time and cost for your Genesys implementation project plan, it is dependencies that can cause the greatest risks. The sequence of tasks must not be interrupted, as there are subsequent requirements and conditions that must be met, and equipment or infrastructures that must be in place, before the next step in the process can be performed by the assigned team member. Inoperative technology will cause counter-productivity, therefore team members should be notified of upcoming requirements to stay on schedule. Calculating duration and intervals through time and activity studies will help determine the most efficient outcomes, while analyzing the cost for each feature and task will ensure the ability to achieve the lowest cost per deliverable and enable you to stay within budget.
Features/Functionality and Use Cases
Before your organization is able to begin using your Genesys platform, it is important to validate exactly how the technical specs and architecture fit into your defined business requirements.  Many times, an organization will invest in a new software product, only to let it go unused. For example, you may end up with two products that can perform almost the same functionality, ultimately wasting money and time on purchasing and implementing both products. Making sure the necessary features and use cases are available to meet the business requirements will allow you to achieve the overall vision and ensure one centralized system for your contact center.
Reducing Risk by Measuring Seven Times
While you need to measure your Genesys implementation against many factors to be successful, you also need to measure everyday against the same factors to detect deviation from the project plan and the roadmap. "There is a way to ensure precision," says Alexander Maximenko, director of application services at Miratech. "For example, we are running a project with the target productivity of 10 Points per day. If we pay attention to every single deviation of the target productivity, we will not be efficient as we will deal with a lot of 'white noise' and will spend excess management effort to analyze every deviation. Applying the rule of seven, we will analyze only such deviations from the target productivity where at least three consequent days are below the target within a period of seven days. Using these statistics, we'll detect and handle over 99% of the real efficiency dropdowns at 14% of the effort/cost, in comparison to the effort we would need to analyze every deviation."
At Miratech, seamless integration and implementation starts and ends with the meticulous "measure seven times" approach, which is powered by our proprietary Control CX™ Dashboard. This complete project management solution assures your implementation goes exactly as planned. There's no time for error when you are striving for maximized ROI. Miratech's exceptional team of talented engineers will lead you to your vision… guaranteed.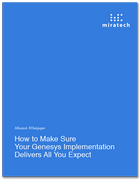 How to Guarantee Genesys Implementation
Find Out Now