Leveraging Chatbot Technology – What You Need to Know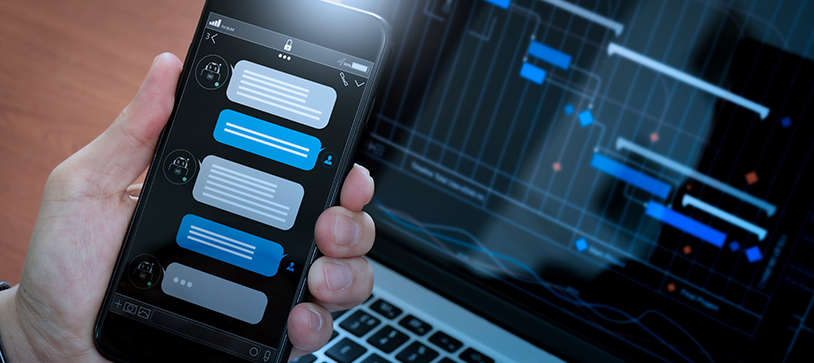 Leveraging Chatbot Technology – What You Need to Know
Chatbot capability is rapidly gaining traction, with potentially 70% of white-collar workers forecast to be interacting with conversational platforms, daily, by 2022 (2019 Gartner CIO survey). Accelerated by technological advances in Artificial Intelligence (AI) and Natural-language Understanding (NLU), plus a step change in operational understanding, chatbots can deliver amazing Customer Experience (CX), as well as brilliant Employee Experience (EX). However, with a crowded vendor market, leveraging chatbot technology can be tricky. So, what do you need to know?
Terminology and technology
Firstly, let's get to grips with some of the terminology. Chatbot, is an acronym for chat robots, an umbrella term for many different types of conversational robot technologies. They mimic human interactions through a variety of conversational style interfaces.
Some chatbots rely on voice technology, whereas others are text based. A well-known example is Apple's Siri, which works which uses Speech Recognition (SR) and natural-language understanding (NLU). The technology is constantly advancing, along with the potential benefits for contact center CX.
Good bot and bad bot experiences
Unfortunately, some chatbot experiences do fall short of 'seamless'. NLU technology is some way from perfect, as it is still evolving. Frustrations often arise when chatbot interactions take longer than they would with human intervention, or the process gets stuck in a loop, and fails to be resolved.
With bad experiences staying 'front of mind', organizations are advised to use proven technology vendors to support their chatbot implementations. Tread carefully with some of the newer vendors who may over promise and set themselves, and you, up to under deliver (Source:Gartner). However, with well-regarded vendors and implementation partners the technology offers some big rewards.
Chatbot capabilities have come on leaps and bounds since the first bot, Eliza, made her debut appearance in 1966. Alongside today's technological advances, the big shift in operational understanding is key to unlocking success with chatbots. From the initial design stage to ongoing learning, chatbot implementation experience makes a huge difference. Knowledgeable IT partners, like Miratech, can ensure you implement well-understood process models to connect effectively, with both your customers and your human work colleagues.
You are probably familiar with chatbots apologizing and explaining they are still learning. Chatbots are like children. They learn through trial and error. Which is why Miratech's machine learning expertise and post-implementation support teams help businesses put robust analysis in place, which supports the learning process. Ensuring the chatbot's knowledge bank grows and its associated responses are adjusted, is the key to delivering continuous performance improvements.
Chatbots and your conversational platform overview
As you might expect, there are significant differences in technical capability and operational understanding. Partnerships between CX technology leaders like Genesys and Nuance, have made it easier for customer service centers to successfully leverage 'one-stop shop' solutions. Also, Genesys offers integration with Google Dialogflow and Amazon Lex to deliver advanced chatbot technology that recognizes voice as well as printed text.
Working with experienced technology implementation partners, like Miratech, also makes it easier to benefit from improved chatbot performance. We help our customers identify the best business processes to automate, with our proven system and business process methodology. Highlighting the most appropriate routine operations which can be performed successfully by smart chatbot technology.
Technology advances and Covid-19
Reliance on chatbots is growing quickly. The advances of AI and NLU capabilities coupled with the impact of a global pandemic have accelerated the delivery of creative and, even, loveable chatbot technology.
This is technology that customers can really relate to, and agents rely on for transactional support. With many organizations recognizing the cost-effective benefits of implementing more human relatable chatbots, as part of their conversational platform strategy.
Whether you're using the automatic check-in for a flight, or booking in for a medical appointment and receiving reminders, and follow-up feedback prompts, you will be now be familiar with chatbots offering the helping hand.
Chatbots making better connections
So, chatbot technology provides real potential to enhance CX, especially when it works in synergy with humans. It is quick, convenient and there are lots of examples to prove how creative and flexible it is. Such as the World Health Organization bot on What'sApp which shares up-to-date information related to the current Covid-19 pandemic.
Chatbots and agents working seamlessly together is the end goal. Intelligent machine learning makes it easier to automate complex call center workflows, as well as ensure the call is quickly routed to the agent most capable of handling a customer specific request. So, rather than replacing humans, chatbots in fact empower agents. Speeding up the time it takes to resolve straightforward tasks, leaving human intervention for more complex challenges.
Chatbots offer organizations a significant opportunity to stand-out and build better long-term relationships with customers, cost-effectively. Which is a compelling case for exploring how chatbot solutions can work for your business. Especially given the potential risk of badly curated customer interactions. According to a Microsoft report 47% of consumers switched brands because of bad service.
Human-centric
Today  'human in the loop' thinking means human interaction is now incorporated into our system analysis and built into the processing model for chatbots, from the very start. Chatbots are given a defined persona. This persona not only supports the job they do, but promotes brand values and humanizes the interface. Defined at the outset, the chatbot persona develops by learning from experiences captured in the data.
A chatbot, like a human, is unlikely to get everything right on day one. The learning process is vital for optimizing performance. Analytics and insights are an essential part of the feedback loop, helping the chatbot to grow and respond to new customer expectations. By continuously reviewing and evolving the technology helps contact centers adapt to ever changing customer behavior.
Sentiment analytics also enable chatbots to appear more human. The chatbot can learn about changes in sentiment, within both spoken and written language. For example, it can transfer the caller to a human agent, with the ability to detect frustration and anger.
Commercial considerations
If today's chatbot capabilities leave any doubt in which direction the future lies, then consider resourcing costs. Genesys estimates agent's costs to be between 25 to 75 times the cost of using a chatbot for any process. If it is possible to do a job well using a self-service approach cost savings will be substantial. With nearly 30% more real-time omni-channel conversations predicted by 2022 (Source:Genesys) a future without chatbots is unlikely. It is cost-effective and efficient to automate routine tasks.
In summary
Chatbot technology is maturing rapidly with more contact centers leveraging the benefits, in more processes, than ever before. However, organizations need to be careful of the number of unproven suppliers in the market ill-equipped to maintain the technology in the longer term.
For many leading organizations chatbots are now part of the brand experience. With customer service organizations working alongside technology providers to build new conversational platforms. Today, there is an ever-deepening understanding of how chatbots and humans relate and can work together seamlessly.
So, who will write the next chapter for chatbots?
We might well see customer service brands developing chatbot technology of their own. But, for now implementation risks can minimized with leading CX technology vendors and strategic implementation partners, like Genesys and Miratech, who have the proven track record of optimizing performance by leveraging chatbot technology. Whoever writes the chapter, make sure your contact is in it, and for the right reasons!
Interested in how chatbot technology can optimize your performance? Get in touch info@miratechgroup.com to help you make it happen