Learn to Accelerate Chatbot Performance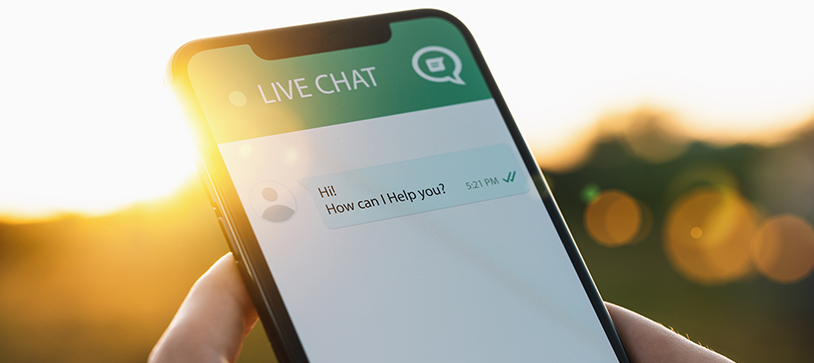 Learn to Accelerate Chatbot Performance
If you're looking to leverage Chatbot technology and accelerate business growth, then be prepared to make some mistakes along the way.
CX technologies, like humans, not only learn more effectively from failures, but quicker too. Here we explore fears, pitfalls, and solutions to boost your self-service performance. So, you can implement chatbot technology with the confidence to learn how to take your business to the top of your class.
Contact center growth and performance
We often avoid making mistakes for fear of failure. This is despite knowing that as children we learn through trial and error. We become increasingly risk adverse, over time, partly as we balance risks versus rewards.
However, one of the reasons why children take lots of risks is because the rewards are very high. They need to learn a lot, very quickly. They are rewarded with survival, the ability to grow stronger, compete and achieve their ambitions.
Similarly, the rewards of successfully leveraging chatbot technology also offers CX organizations the same ability 'to survive, grow, compete and achieve their ambitions'. These potential benefits are acknowledged in the findings of the latest 'Contact Center Annual Report', January 2021, which confirms self-service technology as this year's top priority for contact centers.
Well-implemented chatbot technology underpins customer service centers' ability to compete more effectively and deliver better business results. Boosting capacity and capability to deal with increasing call center volumes, both cost-effectively and with a responsive servicing model which can strengthen brand loyalty.
Mistakes are not failure
So, whether we like it or not, trial and error are intrinsic to improving performance and delivering results. But only if we learn from the mistakes we make. As Albert Einstein, said, "Mistakes are not failure. If you learn from your mistakes, they will make you faster, smarter and better at what you do."
To accelerate performance organizations should adopt a managed learning process. This includes recognizing that mistakes and subsequent adjustments are part of the technological and operational transformation strategy. It should include a clearly defined process and feedback loop which drives continuous performance improvements. This is needed to ensure your chatbot implementation is dynamic and able to deliver the commercial benefits you are looking for. Leave it to chance and you are likely to be disappointed.
Clearly, potential cost savings will vary from business to business, and process to process, however the leading call center technology company, Genesys, has estimated that a human agent costs between 25 to 75 times more than a replacement chatbot process. Even without knowing all the processes that can be automated effectively, the opportunity cost looks very positive.
Experienced technology partner benefits
To optimize your self-service benefits, start by getting the foundations right. Building your strategy and implementation process with an experienced technology partner, like Miratech, that can provide the guidance and expertise required to accelerate chatbot performance and deliver business benefits.
With chatbot technology rapidly evolving, the appetite for customers and agents to benefit from well-implemented tech is also increasing.  However, Artificial Intelligence (AI) is still best suited to routine and repetitive tasks that have relatively predictable user journeys and outcomes. Miratech's deep expertise in machine learning (ML) approaches each engagement with a proven methodology and the experience to identify the most suitable CX processes to apply AI. This would include the routine ones, which will deliver the most benefit from the application of chatbot technology.
Miratech helps clients build their knowledge base by working through the user experience (UX) journey to identify where chatbots could reduce the number of steps in a process, minimizing UX friction. Plus, we explore if a change will add value to the process, looking at whether the end-customer or agent, will appreciate the intervention of chatbot technology. As a consultancy outside your organization, it is often easier for us to see if the chatbot approach is solving a problem, or risks creating one.
We are experienced at working side-by-side with our clients to help with every aspect of the learning process from refining chatbot personality traits, to defining structured conversations which ensure chatbots 'walk before they run'.
By teaching your team to interrogate the analytic information and insights available, chatbot learning and evolution of your technology, becomes a natural process which your business controls.
In Summary
No chatbot can be perfect on day one. While your process may be similar to another contact center's process, it is unlikely to be exactly the same. Mistakes, whilst uncomfortable, are critical to learning. So, it's time to embrace the insights they provide in your implementation and support approach.
Whether we are a human or a chat robot, growth is achieved by not only working out what works, but what doesn't. We are learning and evolving all the time, as the world changes around us. Enhanced performance is delivered through being responsive to change and continuous adaptation.
Selecting a proven technology partner, like Miratech, is as critical to your success as choosing tried and tested chatbot technology from market-leaders like Genesys.
With our self-service CX technology, and implementation expertise, as well as our post-implementation support experience, we can guide your organization safely through the learning process. With every mistake made, the insights are there to ensure lessons are learnt quickly, and you have all the support and expertise you need to find new and better solutions. Solutions that deliver cost-effective CX to truly raise your game.
Want to accelerate your chatbot performance? We would love to help!
Get in touch info@miratechgroup.com