It's Time To Improve Your Genesys Reporting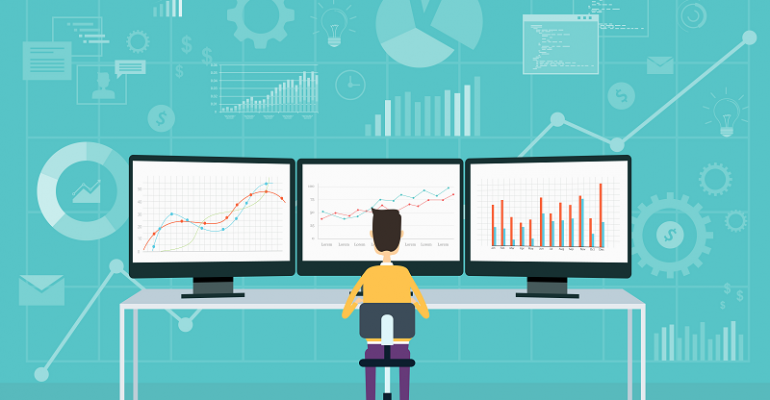 It's Time To Improve Your Genesys Reporting
With the rise of big data, you have the ability to collect tons of information about how your contact center is performing. However, we also know that sometimes all that data can be overwhelming and difficult to make sense of. Genesys offers extensive data analysis and reporting capabilities that can give your business invaluable insight into customer behavior and agent performance alike. But, in order to ensure your contact center operations and performance is aligned to the overall business goals and vision, you need reporting that provides the right data to assess the success of your KPI's (Key Performance Indicators).
Why The Right Metrics Matter
If you're just collecting pre-selected data that you haven't carefully considered, your Genesys reports will be nearly useless. Instead, you need to identify which data points are the most relevant to your contact center and analyze exactly what the information means for your company and its implications.
For example,by analyzing the percentage of calls answered in a specific time, you gain insight into your contact center's efficiency. Traditionally, contact centers use the 80/20 rule –having 80% of calls answered within 20 seconds. However, as organizations compete to be the most productive in their industry, some have adopted the rule of answering 95% of calls within 15 seconds.
If you can identify exactly which performance metrics are impacting your sales and customer service the most, you can determine the necessary reports that will provide each department with the insights and KPI's that are required to improve your contact center.
Putting the Genesys Reporting Modules to Work
While the Genesys platform does offer some basic reporting features out-of-box, there are two distinct modules that, with customizations based on your specific business objectives, can deliver the most useful information so you can continuously improve your support services and the customer experience.
Genesys Real-Time Reporting = Real-Time Resolutions
The Genesys Real-Time Reporting module provides agents with dashboard views of up-to-the-second data that allows for real-time reactions and problem solving. This powerful tool can enable agents to not only track customer issues and inquiries in real-time, but also resolve them in real-time. And, you can also monitor agent performance in real-time as well. Knowing key metrics like how many agents are on calls, call times, and statuses of inquiries, will allow you to check-in on your workforce at any moment and act fast if necessary.
Genesys Historical Reporting Improves Future Operations
The Genesys platform offers historical reporting as part of the Genesys CX Insights module, which aggregates data between a defined timeframe to analyze trends and patterns, as well as areas of improvement within the contact center. This allows you to continuously work towards greater service levels and customer satisfaction, as well as cost savings and overall improved operations.
Previously, Genesys Interactive Insights was the standard historical reporting module, which is based on SAP BI, and is still commonly used. But, Genesys has recently released a new application for the Historical reporting module – GCXI – with an improved user interface and more streamlined data. Even in its initial stages, the platform is proving to provide important data and analytics faster than ever.
Reporting In Action
Take a look inside some of the Genesys Reporting Modules that will give you invaluable insight into your contact center and agent performance, when reporting is implemented strategically around your organization's goals.
Real-Time Reporting Dashboard
Detailed metrics around what is currently happening within the contact canter. The Dashboard displays metrics about individual customer calls, and the Wallboard shows overall counts and statuses on overall calls.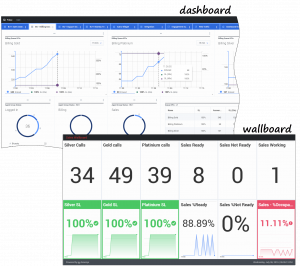 Source: https://docs.genesys.com/Documentation/PSAAS/latest/RPRT/RealTimeReporting
Agent Performance Dashboard
Detailed information about agent activity in the contact center, including information about handle time, interaction volume, and relative ranking compared to other agents.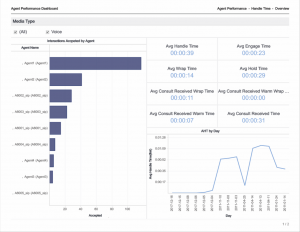 Source: https://docs.genesys.com/Documentation/PSAAS/latest/RPRT/HRCXIAgntPerfDshbrd
Contact Center Dashboard
Detailed information about interaction volumes and KPIs for the whole contact center.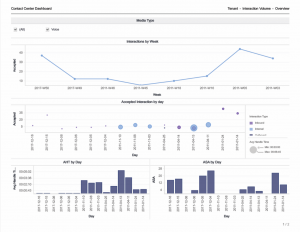 Source: https://docs.genesys.com/Documentation/PSAAS/latest/RPRT/HRCXICCDshbrd
Queue Dashboard
Compare the performance of queues by viewing detailed information about agent performance on a queue-by-queue basis.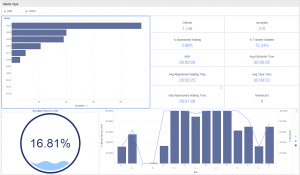 SOURCE: https://docs.genesys.com/Documentation/PSAAS/Public/RPRT/HRCXIQueueDshbrd
Miratech Makes Genesys Reporting Even Easier
When Miratech implements Genesys for your contact center, we make sure everyone on your team is aware of the platform's capabilities. We've been working with Genesys for over 18 years now, so we have the expertise you need to reap the most benefits of your new technology. We offer a variety of services to implement Genesys for your contact center, address changes in business processes, and train your teams so you can get assistance as you undergo your digital transformation.
Do You Want Quality Reporting Without The Extra Hassle?