How To Leverage The Internet of Behavior To Improve CX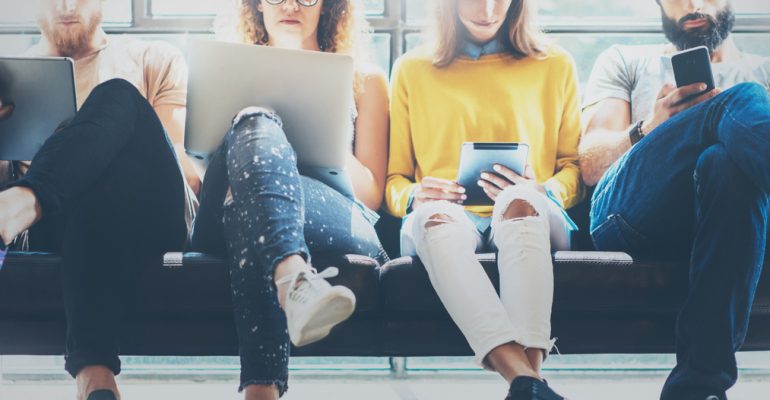 How To Leverage The Internet of Behavior To Improve CX
The Internet of Behavior (IoB) has the potential to transform your contact center's Customer Experience (CX). So, how can you accelerate its integration into your contact center journey?
Whether you are just hearing about it for the first time or on the road to harnessing the IoB, it's clear that this is yet another technology challenge contact centers need to grapple with to ensure an optimized future tech strategy.
Here we demystify the IoB and look at it's potential to change contact centers of the future.
What is IoB?
IoB encapsulates all the behavior information we leave behind us in our 'digital dust'. For example, think about how most of us now surf the net, talk to chatbots, and interact with social media, as part of our everyday life. IoB is used to describe our understanding of what, how, when, and why humans use technology to make purchasing decisions.
The term is credited to the tech research company, Gartner, who highlighted the rising influence of IoB in its top predictions for IT users and organizations in 2020 and beyond.
At that time, Gartner said that by 2023 40% of the global population could be being tracked digitally by an "Internet of Behavior" using facial recognition, location tracking, big data, and aligning all this to behavioral models. However, given the increase in digital dependency, resulting from the pandemic, the percentage globally today could be even higher.
The objective of IoB is to influence customer choices. But, in addition it aims to add value to the process and to the recipient. It offers the potential to accelerate activities and get consumers to their end point, more quickly and successfully than ever before.
This added value is one of the major reasons why so many of us are prepared to give loads of our data away for free. The overall concept is that greater insights into our digital footprint will yield improved digital experiences.
Is the Internet of Things (IoT) still important?
So, where does IoT fit in?
IoT is the source of fuel for the knowledge that IoB is building. Smart phones, laptops, connected car tech, and in-home voice assistants (like Siri and Alexa) all play a part. They are the "things" that we're using to create the base data.
Techjury predicts there are already 46 billion connected devices in 2021, with an additional 31 billion new IoT devices will likely be installed by the end of this year.
Again, if anything, the pandemic has accelerated the digitalization trend as we spend more time at home and increase the number and type of devices being used per household.
Building knowledge, using wisdom, and improving CX
So, is IoB the logical next step forward from IoT?
Yes and no.
'Yes', we're moving on from turning internal and external data into good actionable information. For example, a customer buys a book about cycling, so the system offers more cycling books and cycling clothes and maybe associated products like nutritional foods, or a campervan, where you can install a bike rack.
But, 'no', in the sense that IoB is far more sophisticated and powerful, than many of us may have envisaged. Using behavioral models and psychology and Artificial Intelligence (AI), IoB is a technical concept which can create multi-dimensional and highly personalized human models. The model aims to exactly replicate the behavior of a specific person, based on all the digital information stored and smart modelling.
Remember, the algorithms within the tech are learning all the time. Hence, they're becoming ever more sensitive to the individual characters they're dealing with. It's a little like knowing how to persuade a friend to say 'yes' to something they might say 'no' to. You have knowledge about them and the wisdom to know how to manipulate the conversation. It sounds a little scary, and raises some ethical concerns (we'll touch on later). However, hopefully you can see how this gives organizations so much more potential to personalize an experience.
The upside for contact centers could be huge. The ability to offer a really personalized service, quicker than ever.
Enterprises tapping into IoB are capable of increasing operational efficiency and delivering cost-effective servicing, which is super responsive to their customers. If done correctly, it's surely going to deliver a significant competitive advantage.
IoT, IoB, and security
Of course, IoB's adoption and ultimate success is not just about implementing the latest technology and processes to make it work for your bespoke needs. If only it were that simple.
It is going to be dependent on a lot of factors, such as… the continued willingness to share so much of our digital dust, overcoming potential ethical concerns about how it can influence buying decisions, issues around GDPR, data retention and of course the technical ability to protect data from hackers.
The security questions around safeguarding data are enormous with higher risks of things going wrong when you're relying on data sources outside your organization's control. For example, hackers can easily breach smart devices and not only spy on their owners, but use these devices to reach into connected organizations.
However, with so many perceived benefits for individuals, enterprises and governments, plus our increasing global connectivity and digital dependency, there is a clear appetite to overcome all the ethical and security challenges. It's likely to be just a matter of time, and investment.
There are many questions, in the process of being explored and answered. This is why utilizing technology experts, at the forefront of change, like Miratech, is likely to be a preferred option for successfully harnessing groundbreaking technology.
So, don't just 'watch this space', because there is plenty contact centers can be doing today. Miratech can help get you ahead, harnessing the IoB to reap data benefits and deliver personalized customer experiences.
Find out how to move forward successfully on your CX journey info@miratechgroup.com.