How to Leverage Self-Service Technology to Optimize Customer Experience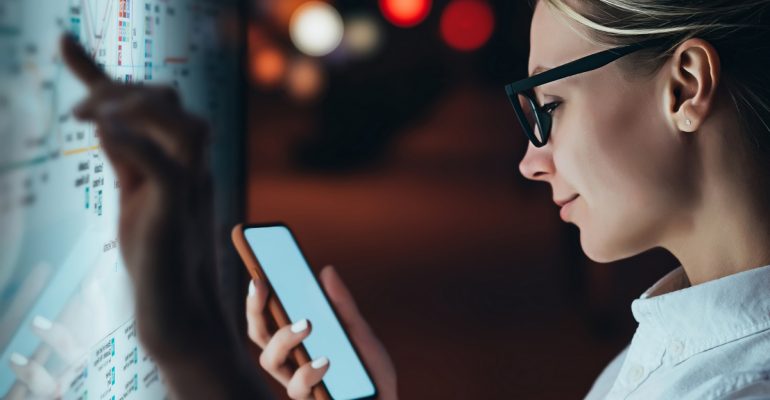 How to Leverage Self-Service Technology to Optimize Customer Experience
Self-Service technology has evolved more than any other Customer Experience (CX) tech because of the positive impact it can have on your business.
According to many U.S. specialized agencies, like H&R bloc, TaxAct and Quicken, Self-Service can cut servicing costs by 82%. As well as provide for a better customer experience that offers a competitive advantage in the market. It can give your organization the transformational savings it needs to scale effectively, yet many businesses are still not realizing them!
We asked Erik Delorey, Miratech CX Leader, to tell us more at our February M-Talks. His customer service experience and invaluable insights into Self-Service operational efficiency will help you avoid common pitfalls and deliver more cost benefits!
The Pros and Cons of Self-Service Technology
The pros of Self-Service technology, such as reduced operational costs, faster resolution times on simpler processes and enhanced CX, are well understood – which is why it has outpaced other CX technology solutions in the last 5 to 10 years. The cons and the requisite best practices is where your customer experience innovation, like many others we see, may be falling short.
Understandably, organizations are intently focused on delivering improved customer experiences in a cost effective manner. However, many companies appear to be overlooking the Employee Experience (EX) of the customer service representative – the frontline agents.
Consider your customer service experience from the perspective of the agents dealing with calls that require human intervention and are typically more difficult. Self-Service has changed their needs too, but many of the associated support systems and metrics are lagging behind.
ContactBabel's recent study revealed that call center agents are dealing with increasingly complex calls. 56% of the respondents said that their technology didn't provide either the right information or the right functionality to handle the customer request effectively.
Also, nearly a quarter of these respondents blamed legacy performance metrics, with out of date handling times. These not only increase the likelihood of bouncing increasingly unhappy customers to different queues, but they put the agent at a disadvantage from the start.
To deliver exceptional CX and scale cost-effectively, make sure you're helping your agents succeed by investing in Advanced Assist technologies.
Improve Customer Experience with Advanced Assist technologies
But how do you get the right tools to your people at 'ground-level' to improve customer experience even for difficult problems?
Contact center agents require advanced technology to assist them (Advanced Assist) in servicing a higher volume of more complex issues Meaning you need to act to avoid increasingly common contact center pitfalls. Only then can you optimize your cost benefits and deliver the CX results you're aiming for.
At the outset:
Agree the desired business outcome to direct all your decision-making
Establish a transparent management process (clear goals, responsibilities, tasks, etc.)
Get the contact center agent users involved as early as possible, and keep them involved.
The strategy you're building needs to be aligned in every way to your business growth goals. Set the direction and get every single person on board with "the why" they're doing what they're doing. Benefit from agent feedback, make sure you're prototyping, and take smaller, quicker steps to achieving your goals.
Utilize experienced IT outsourcing services to help avoid customer service technology fails, like these:
A 27 level deep Interactive Voice Recognition (IVR) system was designed and built to handle everything. However, it was rendered virtually useless. By putting everything upfront 87% of customers tended to 'zero-out' at the first menu and speak to an agent in person.
A voice application included an 86-second long introduction about the business, its exciting website, its mobile app, its brand strengths, and that it was ranked top five in a consumer report. You get the picture!
Employee Experience (EX) is Key to Business Growth
Great CX is about the end-to-end experience. It's about all the people involved in that. Hence to be successful your EX needs to be aligned with your business strategy and your technology solution too.
Your contact center agents are the face of your business, they're on the frontline.
When the problems get more difficult and Self-Service can't handle it, your agents need the capability to deal with the increased complexity. And with today's labor market disrupted, and talent sourcing at a premium, there are simply better options out there for employees who don't get the support they need.
If your contact center agents aren't benefitting from intuitive systems, learning through gamification, and you're not empowering them to help make a positive difference, then, it's unlikely they'll be an advocate for your brand.
Plus, if you don't update your performance measures, to give agents enough time to deal with the new level of complexity, then your customers, and ultimately your business, will feel the negative CX impact.
I've seen entire deployments falter because contact center agents' core needs were not met. If you fail to meet the operators needs you'll have disengaged employees who simply won't use the system effectively. Agents will fail to adopt change and advocate for it. In this scenario you won't achieve the return on your investment you need, or that all important ability to scale cost-effectively!
30 minutes could improve your customer experience!
I've been In customer  experience and contact center agent user experience automation for 20 years, but I'm still surprised at how much Self-Service technology is NOT being leveraged. The smallest changes to design decisions can make Self-Service solutions so much more viable.
I'd go as far as to suggest working with a strategic partner with CX expertise can be the difference between a successful Self-Service and Advanced Assist technology deployment and a failed implementation.
Plus, with today's CX technology solutions and cloud engineering, it's never been cheaper to design, prototype, and test small – before executing on much larger scale initiatives. Focusing on making smaller incremental changes can be 10 times more rewarding for your business growth than looking for that one global 'big idea' that may take years to realize.
Benefit from all Erik's recommendations in Miratech's M-Talks.
Ready to optimize your Self-Service solution? Get in touch today info@miratechgroup.com.