How To Best Support Your Remote Workers When You Implement Genesys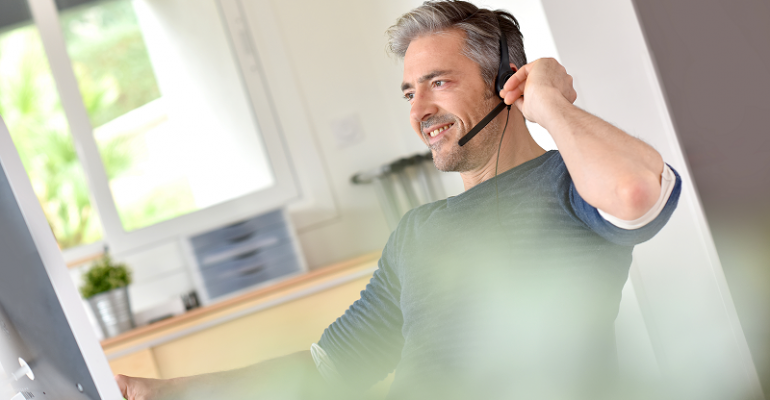 How To Best Support Your Remote Workers When You Implement Genesys
According to the New York Times, nearly 50% of American employees said they spent at least some time working remote in 2016. Today, as businesses are facing inherent challenges brought about by the pandemic, many are forced to shift their entire workforce to remote work. That means companies need to start implementing remote work policies or finding specific ways to manage their remote workers in a way that fosters motivation and productivity. However, when you're implementing Genesys for your contact center, it can be difficult to manage the digital transformation while still supporting your agents who spend time working from home.
Now that you've made the decision to implement Genesys, you need to develop your business processes so they are in line with the new capabilities the technology offers you. This can look different for your agents who work remotely because they're not physically there to witness all the changes that are occurring. With the rise of "uberization" of agents, a solid remote work program is necessary for future success. You need to keep your remote workers up-to-date with everything that is evolving and implement innovative ways to keep them feeling appreciated and working efficiently.
Advantages and Disadvantages
Hiring remote workers for your contact center has several key benefits, including:
Reduced costs – Save money on facilities by having some of your agents work from home, eliminating the need for larger offices.
Greater selection of talent – Now you're not limited by where your agents live; you can hire the best talent, even if they are across the country.
Increased agent satisfaction – Your in-house agents will be happier because they'll have extra support during the busy seasons, and those working remotely will be happy with the flexibility you offer.
Of course, nothing is without its drawbacks. Here are a few challenges you'll have to overcome when managing remote agents:
Security issues – If your contact center model is distributed, security isn't as strong as when all the workstations are in one place. (However, this can easily be mitigated with Miratech's CyberCX)
Hard to train – When the agents aren't in-house, training becomes more difficult. How will you make sure they develop their skills?
Lack of unity – Your remote agents might feel like they don't really belong on the team, decreasing employee engagement, because they're not making face-to-face interactions on a daily basis
5 Best Practices
Despite these challenges, there are ways to make sure the benefits of hiring remote agents outweigh the disadvantages. At a higher level, it comes down to proper workforce management. When you're developing innovative ways to manage your remote agents, you keep them on the same playing field as your in-house agents and ensure that your contact center experiences all the benefits, without the significant drawbacks. Below, you'll find five of our best practices for managing your remote agents:
Gamification for motivation: You can apply the reward aspect of games to your remote agents' work. Things like scoring points, engaging in competitions and even following specific rules for challenges in incentivizing your agents to stay at peak performance. It's about psychology – when we're offered rewards and we're fully engaged in an activity that has a significant impact on our overall satisfaction, we try harder. It's human nature to want to win. Try building up a series of goals that your agents can work to achieve and offer rewards to the agents that perform the best. You'll build camaraderie and help all your agents build bonds that will positively impact their work.
Check-in Regularly: Keep in contact with your agents during the day so you know they're staying on track with their goals. You can't necessarily call them into your office to talk, but you can have them submit reports throughout the workday to demonstrate their progress. With Genesys, you'll have access to call logs and activity reports from your agents so you can check up on them and ensure that they're not experiencing any issues. When the software is properly implemented, it's easy for agents to check in with you.
Quality Assurance Tools: Genesys comes equipped with quality assurance tools so your agents can rate their calls and you can stay informed about what went right and what went wrong. With feedback from your agents and the customers, you can make sure that your remote agents are staying on top of their game. One important tool to use is the agent scorecard, which clearly and objectively details the agent's strengths and weaknesses so agents and supervisors can have an honest conversation about areas that need improvement. You can also review call recordings and even listen in on select calls to determine if they're working efficiently. And if they're not, you'll easily be able to intervene and resolve any problems that are reducing customer satisfaction.
Collaborate: Use communication tools to allow agents to collaborate so they feel a sense of community. Genesys offers several tools that make it easy for your agents to communicate freely from the comforts of their home. Encourage your remote agents to leverage these tools. You can also create social media groups for your teams so they can communicate informally. In addition, if your agents are nearby, you can host local meet-ups so that team members can get to know each other better, even if they aren't in the office together.
Develop Online Training: In one of our earlier blog posts, we talked about the importance of training when you're implementing Genesys. That's because the old processes probably become second nature for your seasoned agents, so now they need to adapt to the digital transformation. Information is available faster than before, but your agents also need to learn how to access all the information and understand the new workflows. This can be a challenge for remote workers because they're not in the office, but if you take the time to design online training programs, or use video chatting, you can ensure that they are on the same page as your in-house agents.
While it's clear that there are some challenges to overcome when you have remote agents and you're implementing Genesys, if you follow some of our tips, you'll be able to enhance the benefits and minimize potential downsides. But, we know that these tips aren't easy to implement. You may require help managing your remote agents during the digital transformation process, and that's ok.
Introducing Miratech's InsightCX
At Miratech, we offer a unique solution to workforce management, so you can leverage the Genesys software and keep all your agents working efficiently – we call it InsightCX. With InsightCX, you'll get a full picture of all your agents' productivity as well as areas that need improvement. We deliver schedule, performance and adherence reports to the appropriate people, right when they need them. Now managers can focus on their departments and responsibilities easily. We've worked with Genesys for the past 18 years and we know the software better than anyone else, so with our expertise, we'll help you create customized reports to truly optimize your workforce.
Let Miratech Help You Implement the Best Practices to Support Your Remote Workers Using Genesys!