Genesys Self-Service Doesn't Replace Your Agents… It Empowers Them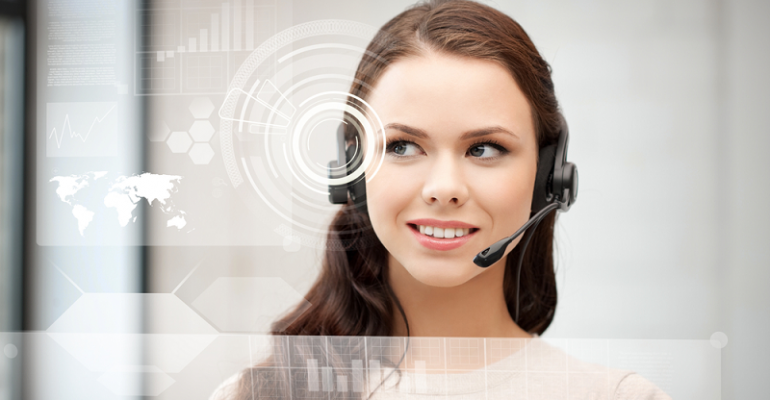 Genesys Self-Service Doesn't Replace Your Agents… It Empowers Them
Now that customers are relying more and more on self-service, artificial intelligence is playing a major role in contact centers. Customers want the quickest, easiest solutions to their problems, so they often prefer to take care of things themselves. The Genesys self-service dashboard is designed to offer your customers more options to take action without having to deal with a human agent. But just how far do we want technology to go?
Human Assistance vs. Genesys Self-Service
While it might seem intriguing, to replace your human agents with AI technology, that's not the best path for the future of customer service. There are still instances that require human interactions, and it's important that we don't try to completely replace human assistance with complete self-service.
The reality is, Genesys Self-Service can actually empower agents by allowing them to dedicate more time to complex issues and higher value requests, creating a better customer experience. For callers that contact support for simple tasks, they can speedily self-service their needs. For callers with more complicated issues or inquiries, they can be prioritized and quickly routed to an agent skilled in their specific needs.
Here are some examples of when Genesys Self-Service may be appropriate, and other times when an agent is really needed: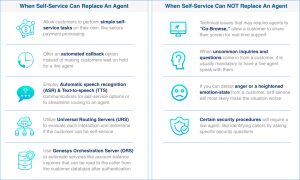 Genesys Self-Service can't totally replace the role of an agent, but it can optimize their efforts by removing basic routine tasks from their workflow and allowing them to focus on more involved issues and specific customer questions that may require more detail to solve. As a result, customers will appreciate the unique approach taken to support their needs, which increases customer satisfaction and loyalty.
Choosing The Right Agents For The Job
When situations that are not ideal for self-service arise, you need to have skilled human agents ready to address them. But oftentimes, contact centers rely on older routing methods like queue- or skill-based routing, which aren't as efficient for matching your customers with the specific agent that can address their problem. There needs to be a technical system in place that can process all the relevant information about the customers and agents quickly. Genesys Predictive Routing can ensure that the right agent is matched with a specific customer depending on the skills required for the interaction to be successful, while Genesys WFM (Workforce Management) can ensure you have the right agents on hand to solve specific problems.
When AI Emerges
With the combination of predictive routing and Genesys' blended-AI solution, Kate, your agents are put in a better position to handle the difficult cases. Rather than being replaced by computers, AI gives agents the tools they need to consistently improve their performance.
Here's a look at some of the benefits AI, especially self-service, offers:
Know When To Self-Service – Simpler cases can get routed to a self-service option so customers don't have to wait an extended period of time to talk to an agent when they have the ability to take care of things themselves.
Enhancing The Customer Journey –Whether your customer's problem was handled by a live agent or a computer, what matters is the end result. If you solve their problem efficiently, you increase their level of satisfaction. So, if your technology can predict how to best serve your customers, this positively impacts agents.
Automate Data Collection – Through self-service, and technologies like ASR(automatic speech recognition), your computers can collect more data and make sure it's available to the appropriate agent right when they need it. There's no more searching around for the right data to solve the problems.
Promoting The Omnichannel Engagement – Genesys connects all the information from the different channels, so if someone used a self-service option over the phone, your agents will still have that information when they interact over live chat or another platform. Your customers get to choose how they communicate, without risking disjointed interactions.
Recommend Solutions – Genesys' blended AI technology offers agents the chance to improve their skills by getting recommendations for best practices. They can learn how to decide what the best course of action is for a given situation.
Miratech Leverages Genesys Capabilities
Although all of these capabilities can be accessed once you implement Genesys, contact centers often find that utilizing all these options without professional assistance can be a daunting task. Miratech can make the process easier for you and ensure that everyone is fully trained to make the most of the technology. We have over 3.5 million hours of experience implementing Genesys for the most prominent companies, so we know we can help carry your contact center into the future. With our planning and technical services, you'll get the greatest value from your Genesys platform.