Genesys Integrated Self Service
Leverage the power of Genesys Interactive Voice Response (IVR), a technology that allows digital communications with humans through the use of voice and DTMF tones input via a keypad. Let your business, rather than IT, control the IVR and promote operational visibility. You can provide the best experience for your customers at an affordable cost by optimizing your IVR.
Why Genesys Self-Service?
Self-service communication options provide optimal omnichannel customer experiences. We've found that 80% of customer issues can be resolved quickly and easily via automated digital paths. This leads to a considerable reduction in live agent costs and a streamlined journey for the customer.
Some powerful features of the Genesys IVR technology for your business:
Business-centric analytics
Multi-language speech recognition and natural language support
Single tool option for IVR and routing configuration
Simple, point-and-click call flow design and management
Unlimited scalability
Open, standards-based platform
Carrier-grade, multi-layered management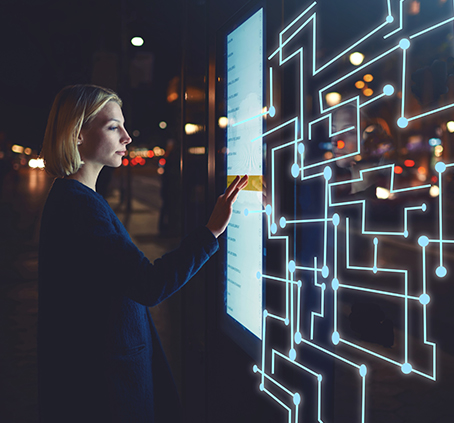 Decrease the Number of Live Agent Calls for More Efficient Service
Self-service communication leads to a significant decrease in live agent calls. Simple issues are handled via automated channels, leaving fewer complex issues to be resolved by an agent. The threads are optimized through precision targeting of the call, which detects language digitally to connect the customer with the appropriate channel. You can know ahead of time if a customer would like to speak with a representative.
Genesys' predictive routing previously identified and thoroughly documented customers and their particular needs. Now any agent along the communication route is able to resolve concerns quickly and efficiently, without making the customer repeat questions or concerns. Ultimately, this enhances the customer experience.
Keep Your Customers' Information Secure
Optimized for high-priority customers, the Genesys dashboard notifies customers of agent availability on the system. In addition, it can eliminate the need to repeatedly identify and authenticate customers.  The self-service communication brings customers to a more secure environment when entering highly confidential information, where they can feel more comfortable with the quality of service.
Let Us Tailor Your Self-Service Dashboard to Your Needs
Miratech engineers will work alongside your team to optimize the functionality of the dynamic Genesys self-service dashboard. We guarantee we will get you to your goal quickly, effectively, and with the best cost per deliverable.
Ready For Greater Control?
Miratech gives your business the power to control Genesys IVR effectively to reach your specific objectives. We'll help you make digital communication easy for your customers so that they keep coming back.