Digitalized Project Management: How to Complete 99% of Projects on Time and on Budget!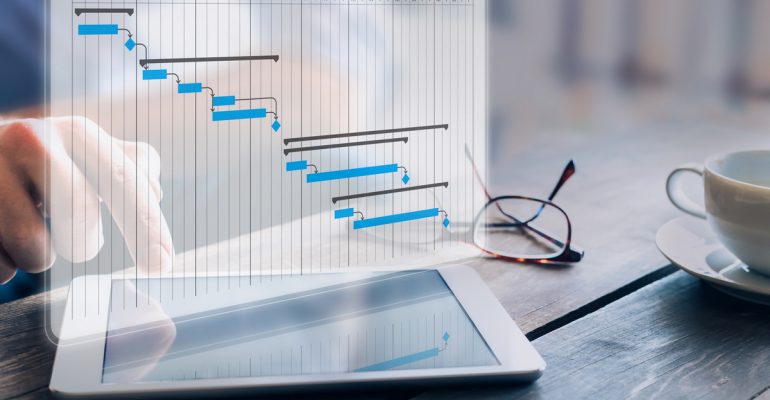 Digitalized Project Management: How to Complete 99% of Projects on Time and on Budget!
Why do so many technology projects finish late and over budget?  
One of the major factors is that the project management tools being used simply don't go far enough to eliminate the guesswork. Given the complexity and scale of most digital transformations today, relying on manual processes and controls contributes significantly to a huge percentage of technology projects being delivered late, and over budget, or failing entirely.
Even if you think your project management approach is sound, it could be time to think again…
Let's look at the value of digitalizing your project management processes, compared with the risk of continuing with a fundamentally manual approach.
Beyond project management standards and documentation
Project management standard terminology and guidelines, for example, as set out by The Project Management Body Of Knowledge (PMBOK,) underpin the way many software development and implementation projects are run today. Overseen by the Project Management Institute (PMI), PMBOK is a recognized and proven methodology, but not a digitalized tracking tool. So, can it ever really give you enough control for the size and complexity of your project or program?
However much project management experience you have, it's worth reflecting on the fact that the software engineering is still a relatively young discipline. Project management digitalized tools, in many cases, have some catching-up to do to achieve the level of accuracy we see in established industries, such as automotive engineering.
For example, think about the process of launching a new model of car against the hurdles of launching an omnichannel CX platform for a multisite global services business, with multiple legacy systems. The maturity of the automotive industry and the engineering tools used to manage the processes mean that once a car model is established, the production is all about precision, repeatability, and clear unit cost control. In contrast, modern software environments are in a constant state of flux. This is due to factors like the number of technologies involved and the speed at which these are all evolving, as well as rapidly changing consumer expectations and operational business models.
Now think about the amount of moving parts in your specific project…
If you're using project management tools for software projects which aren't sufficiently digitalized, the information at your fingertips could be misleading.
Does your project management process connect your data digitally and in real time? Are your project management tools helping you overcome underlying complexity?
Because, however experienced a project manager you are, you can miss important insight without digitalized quantative data analysis and reporting, tailored to your specific project needs.
The real picture: A digital transformation case study
Can you see the real picture, on your project, or could you be missing critical risks?
To help you answer that question, here's a digital transformation case study to highlight how easy it can be to get off track without digitalization, despite good project management practice.
Our client believed its business-critical Enterprise Resource Planning (ERP) roll-out was in control and on target. However, the CEO was keen for Miratech to perform a project audit to confirm they were not at risk of incurring significant costs and business disruption from late delivery.
They were looking for added reassurance, but unfortunately, our audit revealed bad news.
The Project Management Office (PMO) had all the documentation and plans in place, in accordance with PMBOK. The PMO was confident the project was on track. According to PMBOK processes, it was.
However, our audit indicated there were unseen problems, due to the lack of quantative tracking. Inherent in Miratech's digitalized project management approach, this information is key to our 99% success rate for project delivery on time, and on budget. Our experience tells us that without this control mechanism projects suffer from a 30% average overrun. For this project it equated to a forecast overrun of three months.
The client had been unable to see the real picture, despite careful project management practice. Ideal for small projects, we explained that relying on PMBOK's project management approach, without the benefit of automated project analysis was not suitable for such a complex, large-scale project. Insufficient digitalization of the project management process, particularly the lack of a quantative tracking and central data-driven analysis meant it wasn't possible to estimate accurately and see the project status in real time. The approach being used was too reliant on human judgement, without quantative data and analysis tools. This made it near impossible to deal with such complexity and scale accurately.
Initially, it was hard for the PMO to accept that the project was off track. The client was understandably distressed to learn that the project management approach they'd chosen was not sufficiently digitalized to give them the control they needed to avoid the financial impact of late delivery.
Unfortunately, as predicted by Miratech, the project overran by three months, significantly increasing transformation and day-to-day operational costs.
Ready for project management digitalization?
CEOs choose to work with Miratech because over 99% of our projects finish on time, and on or under budget. But, exactly how do we do this?
We've previously covered a number of ways to ensure your digital transformation is on track, and one of the standout reasons for our clients' success is our project management digitalization.
The Miratech Agile Portfolio System™ brings together proven methods with agile digital management systems, powered by industry standard tools – like Jira, Confluence, Bitbucket, etc.
This award-winning approach to project management digitalization is a unique combination of proven project management methodology and decision enhancing hands-on tools. Our patented system has been proven, time and time again, to offer greater control of complex digital transformation projects. It assures CEOs, and their business managers, that their large-scale and complex projects projects will be completed on time and on budget.
Want to learn more? Get in touch info@miratechgroup.com.