Creating the Optimal Agent Desktop with Genesys WDE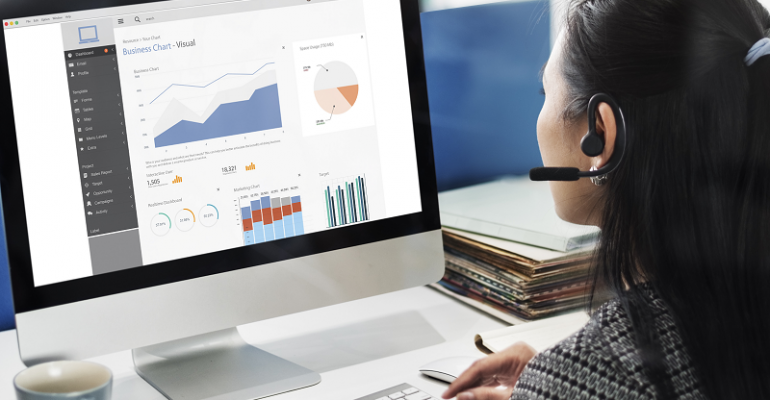 Creating the Optimal Agent Desktop with Genesys WDE
Overcoming the Challenges of an Omnichannel Contact Center
When you're managing an Omnichannel contact center, you run the risk of getting lost in all the different messages coming from the various communication channels. Let's say a customer starts contacting one of your agents by phone, but then decides to switch to SMS – you want your agent's desktop to seamlessly facilitate the switch to ensure they're optimizing the customer's experience.
On the back end of this communications scenario, it can also be confusing if your agents need to sift through all the information related to a customer's multiple interactions to solve their needs. That's why it's important for your agents to be able to immediately access all the tools and information they need to provide quality customer service. In addition, your supervisors strive to manage their agents effectively, and that means they need a desktop equipped with features to allow them to communicate quickly and efficiently throughout their shifts.
It might seem like this is expecting a lot, but Genesys has really thought this through. Taking into account the challenges that can arise when running an omnichannel contact center, Genesys sought to simplify your agents' jobs by creating the Workspace Desktop Edition (WDE), which meets the specific needs mentioned above, and more.
What is Genesys WDE?
The Genesys system has so many capabilities and functionalities – you might not know where to start. With the introduction of Genesys Workspace Desktop Edition (WDE), a part of the employee engagement omnichannel solution for PureEngage, your agents and supervisors gain access to all the tools they need to perform their jobs efficiently.
Its unified user interface (UI) keeps your employees responding in real time to freely flowing information that originates from various channels and touchpoints. The Genesys WDE UI is the key to keeping your contact center truly dynamic and your agents truly happy!
Why It Matters
Genesys WDE enhances internal communications, user performance, and quality of services delivered. It accomplishes this through its various privileges for agents and supervisors. The categories of privileges include:
• Voice actions – Handle internal and external voice interactions, record calls, and add video.
• Instant Messaging actions – View all the information that is necessary to handle chat and SMS interactions.
• Statistics access – Review statistics related to switches, Routing Points, queues, and other resources.
• Contact actions – View and manage past interactions and contact information.
• Team Communicator actions – A universal lookup tool that allows you to find an internal target or a specific contact.
• eServices actions – Unify your handling of the various communication channels that customers use to reach your interaction contact center
• Standard Response actions – Access prewritten standard responses for your interactions.
• Favorites list – Speed up the search process and overall agent work by configuring an agent's list or using the corporate favorites.
The challenge is, you don't want to give everyone access to all the system's privileges. Instead, you want each agent to have access to only what they need – not more, not less. Fortunately, there's a way to address that…
Defining Roles
The first step to getting the most out of Genesys WDE is defining your agents' roles. By telling Genesys who is responsible for which tasks, you ensure that each agent only has access to the information and capabilities that they need to perform their specific job. Assign privileges to agents based on their role so they have limited access to the system, enhancing security.
Now that you've set clear boundaries for your agents, it's time to make sure the desktop is designed in a way that enhances productivity and ease of use for each of your different roles.
Customizing WDE
There isn't one optimal desktop design for all agents. Different roles require different specifications and customizations, so it's imperative that you find a way to create the desktop design that is the best fit for each specific role. Here are some examples of the features you should consider customizing:
• Rules Support – This allows agents to sort objects in the Interaction Queue. In addition, you can assign emails to agents in accordance with their skills automatically, streamlining communication internally and externally.
• Sort Interactions – Rules can be created for all levels of the company organizational chart. Then, interactions can be sorted out by predetermined criteria in each department, giving you more control and structure.
• Standardization – Create numerous standardized responses and signatures for agents according to their unique roles and skills, allowing for more transparency when communicating with customers, as well as with coworkers.
• Filtering – Keep all your agents' customer interactions organized by filtering history by media type (voice, chat, SMS, email, etc.)
While it might sound great that the Genesys WDE has all these unique features and capabilities, the customization process requires a high level of expertise. Without the right team working with your contact center, customizing WDE is a long and difficult road.
Miratech Customizes Your WDE
Miratech offers that level of expertise. We've worked alongside Genesys engineers developing their products, so we know the capabilities better than anyone else. With over 18 years and 3.5 million man-hours of experience implementing Genesys for prestigious clients, we guarantee we'll get our clients' Genesys system running at peak performance, exactly as they want it.