Cost-Effective Resourcing for Public Sector Digital Transformations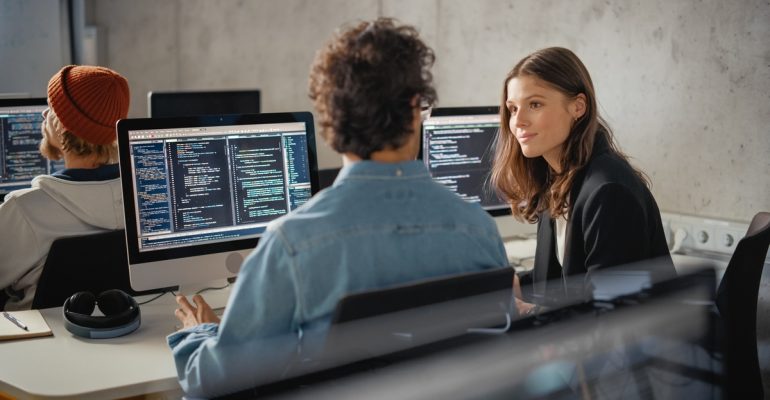 Cost-Effective Resourcing for Public Sector Digital Transformations
Resourcing Digital Transformation projects which meet budget constraints is especially challenging for government entities given the scarcity and the rising cost of emergent technology talent. However, this ability to effectively harness new technology is essential for delivering modern public sector services in an operationally efficient manner.
If this is a conundrum that your department is facing, then the Miratech Talent Investment Program offers access to affordable specialized talent with a proven ability to deliver the latest technology solutions. The program has already been successfully leveraged globally by Fortune 500 organizations, as well as government entities.
Here's one of many success stories that will show you how…
Winning by combining new talent and experience
A high-profile digital transformation initiative, which was critical to the capability of a European country's government to collect revenue, was at the risk of failing. Failure would significantly damage the government's financial stability and compromise its ability to pay its creditors, as well as impact its reputation.
There was limited time left, until an immovable 'go-live' date when the Miratech team was engaged. We accelerated resourcing the project by leveraging Miratech's Talent Investment Program. Our proven model meant we could create a winning team, at least four times quicker, using mixed skill levels instead of only senior expertise.  The team was able to 'hit the ground running' supported by experienced 'on-the-job' coaching and accelerated training programs for junior and less experienced talent.
The project team comprised equal parts of junior, mid-level, and senior team members and benefited from our apprenticeship talent development model, as well as being supported by proven Project Management techniques and Miratech's unique methodologies and tools.
To further minimize risk and accelerate delivery, our project teams have the advantage of direct access to our global network of experts in multiple emergent technologies. In addition to other highly experienced specialists in legacy migrations, worldwide.
Our first job was to establish the true project scope by utilizing five different estimating methods, looking at the work from every angle. Then the scope and cost were reduced by identifying components of the existing system that could be retained, as they consisted of current and supported technology. The solution was then designed and delivered in two phases. All the essential elements were available in phase one, to ensure the original deadline could be achieved, with additional user data maintenance facilities added soon after in phase two.
The result was that this mission-critical 80,000-hour project was turned around, with the new finance system available, on time and on budget. Where you might expect a team of senior engineers to be the answer to rescue such a high-profile complex project, this success story proves how deploying supported new talent, discovered and trained by Miratech, works.
Cost-effective sustainable technology talent
This fast-track apprenticeship model enables projects to scale quickly by optimizing access to specialized global experience and technology training from senior resources, while harnessing the energy, enthusiasm, and drive of outstanding junior talent.
It's cost-effective because it utilizes high-yield, low-cost talent and minimizes risk with proactive project management. Talent investment maximizes return on investment too, nurturing the future talent clients need to leverage emerging technologies, without breaking the bank.
The longevity of the approach is why we're still providing agile, cost-competitive specialist teams to this client and their other strategic IT partners. This is enabling them to continue improving the systems within this government's budget constraints and despite the increasing global scarcity of specialized technology resources.
In Summary
To deliver public sector solutions cost-effectively, governments need to harness emergent technologies. However, the resources required are often scarce, if available at all, and the costs are spiraling upwards.
In this example, we have a high-profile, financially critical project, that succeeded because it leveraged Miratech's Talent Investment Program to access a lower-cost, high-yield technology resourcing solution.
It's an ideal way to connect to global expertise in cutting-edge technologies and nurture essential future talent through an accelerated development program. And best of all, it's a cost-competitive framework for success. One which can save up to 350% on the costs of recruiting and training your own resource pool.
Save up to 350% on technology talent with Miratech info@miratechgroup.com.