ControlCX™ Dashboard
Over the past 20 years, Miratech's team of highly skilled engineers has worked alongside Genesys to develop ControlCX™, our proprietary dashboard for the advanced project management of Genesys PureEngage implementations. This is our proven formula for success, derived from our extensive expertise and a 99+% success rate in Genesys implementations.
With our evidence-based strategy, ControlCX™ charts progress and includes projections for maintaining the success of your Genesys project. This is necessary at all stages of the implementation process, from development to execution. ControlCX™ allows your internal staff, Miratech engineers, and third-party solutions to work together to achieve your company's goal, guaranteeing success and that your project will be delivered on-time and on-budget.
See the Big Picture and Pave the Way to Success
With a helicopter view of your entire Genesys implementation project, you can establish the need for any adjustment or improvements to ensure a continued path to success. In addition, we use real-time data on budget and progress to let you know not just where the team is at each moment, but also where you are headed.
Track your progress to identify any problems that may arise and ultimately achieve goals faster. We also use implementation velocity to let project managers see and compare actual velocity trends with expected trends, allowing you to proactively make changes before problems even arise. Moreover, our ability to calculate velocity per consultant assists your company in maintaining its success by ensuring that every consultant is fully engaged in the implementation of Genesys PureEngage.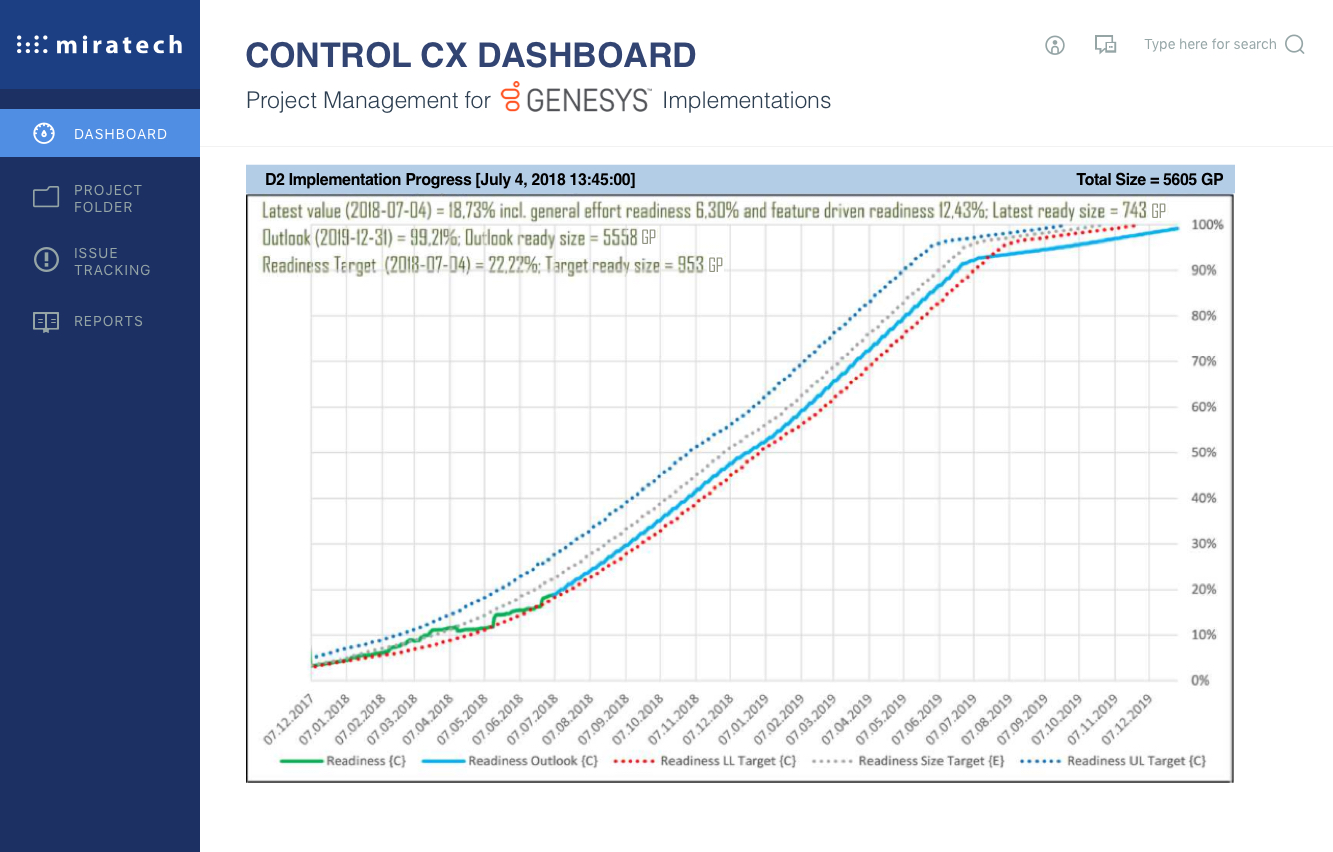 Our ControlCX™ dashboard allows you to monitor:
Transparency
We help you identify issues that could affect another member's task or the project's outcome, as well as actions that can worsen or benefit it. To do so, we oversee each team member's progress. Transparency between each team's work and the lead development team is necessary to keep everyone on track and our system can keep this transparency for your company.
Accountability
We allow you to see everyone's actions in real-time. This holds team members accountable and fosters responsibility and a level of commitment. While it is easy to lose sight of accountability in call center software development, at Miratech, we keep a team fully involved with the product from beginning to end.
Real Time Data
We allow your company to see data in real time so that you can make changes immediately, which avoids issues in the future. With ControlCX™, you can deliver responses on time and make changes for your call center's success.
Traceability
We keep records at each developmental stage, which helps define inconsistencies and also identifies the underlying cause of all issues. When the product meets all of the specific requirements, you can map the relationships between different projects and determine what needs to be changed to ensure successful workflow.
Readiness Model
Our readiness model displays statistical data to determine your company's progress and identify any issues along the way. Establishing the scope baseline, tracking and measurements allows you to measure your company's readiness. When you are aware of your company's readiness, you can identify and monitor important features of the product. In addition, you can calculate the metrics of each feature.
Contact Us For a Demo of ControlCX™
Our proprietary project management process guarantees the success of your Genesys implementation and delivers the project on time and on budget.