Buying Genesys? Training Will Be Your Biggest Challenge
Buying Genesys? Training Will Be Your Biggest Challenge
When implementing your new Genesys platform within your company, everything changes. You've made the investment to delight customers and workers alike, however the technology is only the tool that's used to meet your new customer experience objectives. What really changes are the business processes that will leverage the technology and transform your service levels.
All digital transformations require one thing… retraining your staff. It is essential that they learn how to use the new technology effectively and to understand each new step in the way customers will be supported. This is especially true in any omnichannel redesign, which involves revolutionizing the way customers and agents interact and communicate.
Miratech has taken our experience, of supporting the digital transformations of many of the top Fortune 100 companies, and identified the key training areas needed to ensure a seamless and successful Genesys transformation. These processes provide some interesting solutions to ensure that when implementing Genesys for your contact center, your front and back office personnel are all trained in a way that they can provide the best customer service to meet all of your business objectives.
Here's a look at how some of the major aspects of your contact center change when implementing Genesys and why training is at the core of the shift.
Workflow
With your Genesys omnichannel solution operational, and management dashboards in place, your agents will now have all customer interactions within a "single pane of glass" (EE-omnichannel desktop) interface. But, how exactly will they use this new tool and will they fully understand how to maximize the information now at their fingertips?
Training on before and after workflows is crucial for this as front and back office agents (EE-back office task integration) will need to visualize and role play the new automated scenarios for historic processes that have been eliminated. You should review things like opening a new account or offering technical support for a common issue. Your agents must build trust working together effectively to ensure that all of the appropriate information about the customer is passed into the right sections of the system, building confidence along the way.
Workflow will change dramatically depending on how agents and customers leverage the omnichannel opportunity, as well as which functions will be fully automated, which actions will require specific human interaction, and which will be self-serve. You may want to outline these scenarios using process maps to aid agents as the new systems come online, leveraging the fact that client-facing agents have all the information they need to meet the customers' needs, with immediate access to all the touch-points.
For example, here are some process flow strategies that illustrates the pathway from the customer entry point through the completion of the process.
Genesys Voice Platform Call Strategy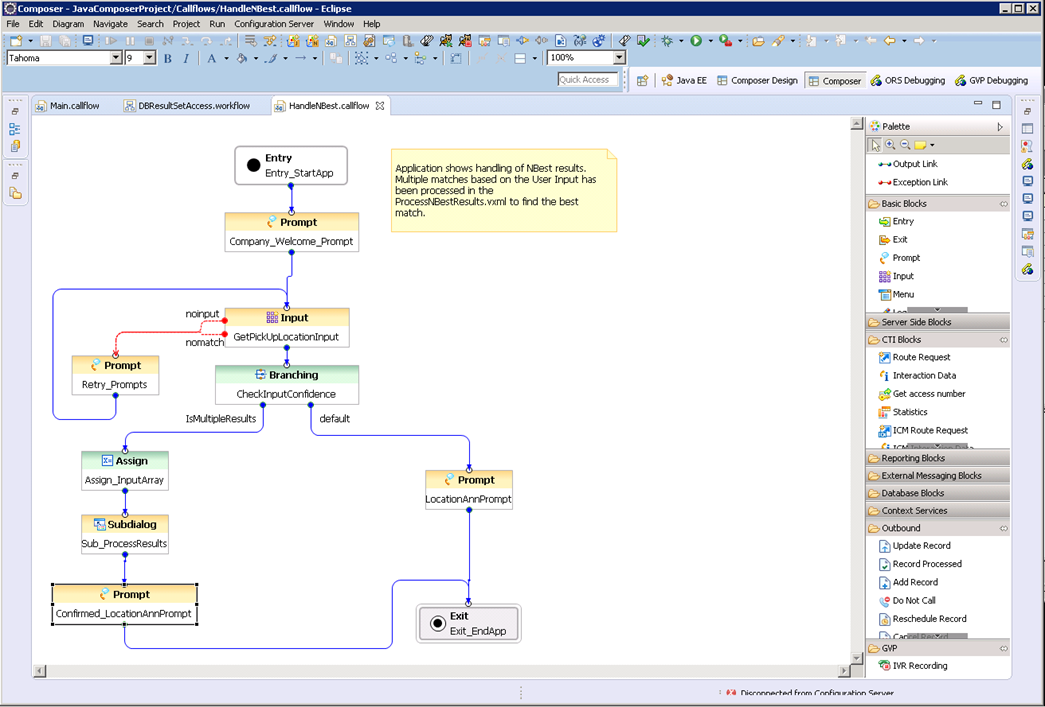 Basic Business Process for Handling Emails and Chat Interactions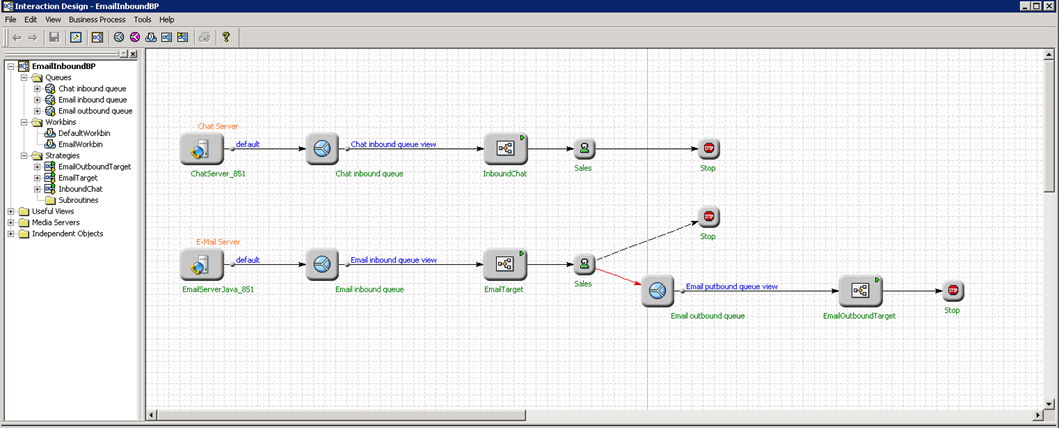 The workflow training should be a continuous process rather than a single occurrence. Periodically, break your agents up into small groups and have them work together to create process maps for before and after the implementation of Genesys. You can also incorporate case studies to look at more complex issues and how they may be simplified with the Genesys PureEngage platform. Your agents will be sure to see the difference in their everyday tasks.
Finding Information
In most legacy systems, agents are trained to find information by searching through numerous systems and locations for customers' history, but after implementing Genesys, everything becomes easily accessible in each agents' omnichannel desktop. How that information is organized forever changes how agents will work and solve customer challenges, or gain insight from customer opportunities.
This calls for a role playing training session, where agents play customers and try to see who can access the right information fastest! Agents love their new desktop set-ups as they easily test scenarios and work to trip up even the most seasoned veterans. In this process they gain deep knowledge and skills regardless of which communications channel customers enter. You can also have agents take part in online training simulations by using small chunks of time throughout the day to take "virtual" calls. At the end of these calls, the agents can receive feedback to understand how their solution measured up to the ideal course of action.
In today's new world order where speed is everything, customer expectations have changed (which we'll get to later), and agents are forced to navigate the new system while being expected to serve their customers even faster than ever before. As expectations continue to grow, they'll need to be trained on faster response times, and how to utilize all the new information, to start providing exceptional customer service at the expected speed.
Expectations
Genesys is the game-changer for meeting customer expectations, but it also means agents need to understand the revolutionized world of customer service. Today, customers expect you to know everything about your relationship with them in real-time, no matter who is speaking to them. That requires agents to be extremely proficient at working through their desktops to gain insights from the information provided.
With the correct Genesys configuration, information will move more quickly than ever before. Without the proper training, this expectation can actually create additional stresses on your agent pool. Shifting focus from "finding and retrieving" to "listening and solving" is the key to meet the new timeline of customer expectations. Have your agents listen to their call recordings and determine how they can better meet customer needs in the future. They can learn from past mistakes and ask questions to develop their skills further. Provide direct feedback after replaying each call so that your agents know what they need to improve upon, by letting them know exactly where they fell short or where they succeeded. You can ensure that in the future, your agents will meet the rising customer expectations.
This is also a good opportunity to integrate social learning by having agents learn from each other. Assign mentor and mentee roles so that newer agents can learn from more seasoned professionals. You can even encourage your agents to use online forums and webinars to better understand how the expectations are changed for your industry as a whole and get ahead of the competition.
Agents also need to become aware of the new expectations management will place on them, due to efficiencies inherent in Genesys – after all that's why your company invested in it! Time studies against your current models will help both management and agents reset expectations, and more importantly, create the benchmarks for the team's future encounters.
Benchmarks
When expectations change, benchmarks are the thing that takes the subjectivity out of the equation. When you select and measure the proper benchmarks, you increase your workforce's productivity and reduce unnecessary costs. You can also compare your company's performance with itself from the past and across other companies in your industry. Miratech recommends creating benchmarks in the following key areas:
Time: Average time in queue, average time to answer, average handling time, average wrap-up time, and experience time. All of these measurements add up to give you the full customer experience.
Abandonment rate: Don't miss an opportunity to sell because your customers can't reach you. This also leads to customer dissatisfaction (which we'll get to later). The global average abandonment rate is 5-8%. Can your company do better?
Productivity: Understand the ratio of productive activities, such as being on a call with a customer or participating in training, to unproductive activities such as taking breaks or waiting for a call.
Customer satisfaction levels: You can administer post-call surveys in order to gain insight into metrics such as CSAT, customer effort score, and not promoter score. You can even ask the agent how he/she thinks the customer would have rated the call to get a reflective satisfaction level.
Quality: You can assess quality scores using speech analytics in order to look at customer concerns, detect agent protocol compliance, and determine which key phrases help close a deal.
Number of replies per ticket: The goal is to minimize this along with resolution time. You want to try to resolve your customers' problems with as few replies as possible.
First level resolution rate: This assesses whether your agents need to escalate a customer's concern or if they can handle them appropriately. If you don't need to escalate a problem, your customer will receive the service they need faster.
Your agents need to know how to go above and beyond the level of service they've provided in the past. If you want your agents to meet your business' new benchmarks, ensure that all your agents are aware of these changes so that they can strive for the best. This might be a good opportunity to integrate corporate training videos to engage your agents and inform them of all they need to know. Keep your agents motivated by coming up with high, yet realistic benchmarks for your Genesys implementation. If your company is struggling to meet its benchmarks, it might be time for you to take advantage of Miratech's ProjectRescue service to get your Genesys platform back on track.
Of course, your business will need some time to adjust to Genesys, but Miratech can accelerate the process for you and help you transition with ease. We'll help you write training plans and guides for your agents so that everyone knows what they are expected to do in any situation. We suggest that you make training trackable so you can see your agents' performance and allow for friendly competition. This also tends to decrease the amount of time you need to spend training your agents. Don't waste time trying to figure out how to implement Genesys on your own. Miratech worked alongside Genesys engineers for over 20 years to develop the product and we've implemented some of the largest Genesys installations in the world… So, we know it better than anyone else. Make sure that you provide your agents with the training they need to turn your Genesys implementation process into operational excellence.