7 Ways to Prevent Contact Center Losses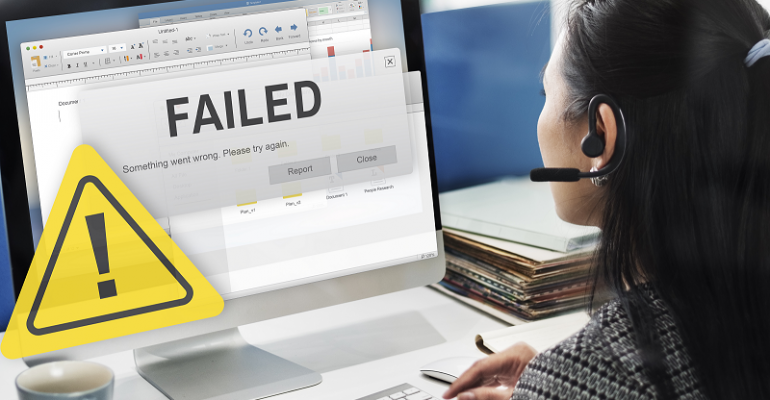 7 Ways to Prevent Contact Center Losses
In a typical contact center, up to 10% of call recordings could be missing. There is no single reason why a call recording is lost, but when it does it can jeopardize agent performance and, even worse, customer relationships – not to mention quality and regulatory compliance requirements.
Recovering Lost Calls
Fortunately, Genesys offers a unique solution that takes the necessary precautions in the event that a call may be lost. Genesys Interaction Recording (GIR) uses a number of backup mechanisms to preserve call recordings, and if configured properly, recordings can be restored if needed.
The powerful solution enables contact centers to record full customer interactions through the Genesys Speech and Text Analytics platform, across multiple channels. That means, no matter if customers are routed to multiple agents, who are sometimes even spread across geographies, 100% of interactions are captured and stored. The GIR feature even allows agents to share recordings and quickly identify interactions that involved an issue enabling fast resolutions.
Preventing Contact Center Losses
Regardless of the Genesys GIR tool, every contact center should be taking measures to prevent call losses in the first place. These 7 methods can be implemented to help you do just that!
Ensure Platform Configurations Are Accurate & Secure
Various customizations to the Genesys platform can lead to security issues – solution architecture, component configurations, and 3rd party product integrations. So, it is critical that you ensure your engineers are able to configure the system without damaging it. Things like the incorrect configuration of rules and schedules, sequencing or parameters of purge and back up tasks, can all lead to holes in your system. A thorough Cyber Security Assessment can reveal configuration problems and as result pinpoint the areas that need to be repaired.
Pinpoint Lags in Service Quality
Before you can address any problem, it's important to determine its sources. This is certainly true when it comes to hold times. Look at abandoned call data to determine if customers are hanging up during these times. Or, with a deep knowledge in Genesys Reporting and Telephony, you can analyze your metrics to find out when hold times are the worst. When you can begin to narrow down the when and why of your on-hold challenges, you can start to create solutions for fixing them. For example, while Miratech was working with a world-leading vacation rentals company, we were solving issues with long on-hold calls where we need to collect historical reporting in Genesys Interactive Insights (GI2) and investigate calls by SIP Server and Routing engineers.
Minimize the Reasons for Calls
Are customers repeatedly calling with basic questions that could be answered by self-service options on your website or listening to an IVR recording? Step back and look at the broader customer experience to ensure everything is optimized. Up-to-date information on your website, social media channels, and print collateral can help to answer common customer questions and reduce the volume of incoming calls. An updated IVR greeting and on-hold message with key information that is commonly asked can provide the answers that callers are seeking and prevent the need for some calls to be routed to agents.
Offer Automated Callback as an Alternative
Reduce customer frustration and effort by offering callback as a path from self to assisted service.  Callbackenables your customers across web, mobile, and IVR touchpoints to – with a click or IVR selection – schedule a callback from an agent at a convenient time for them or request one immediately. Callback greatly reduces hold times by increasing overall contact center efficiencies, such as improving the first call resolution rate, average speed to answer, reducing the call transfer rate, the abandonment rate and decreasing the average handle time of each call.
Improve Self-Service Options
Customers are increasingly preferring self-service over assisted-service. This reality is an indicator that it may be time to upgrade self-service channels and the technologies that support them, including your IVR solution. With more callers choosing these channels, you'll not only decrease your call volumes and hold times, you'll also reduce your operating costs.
Optimize Staffing
Perhaps, the most obvious way to decrease hold times is to have the right number of people to handle the call volume. This isn't always easy to accomplish when you have many peaks and lulls. By using intelligent contact center workforce management, you can better understand these variances so that you can have the staff on hand to cover peak periods while still being able to maintain solid adherence rates.  Also by allowing customers to schedule a callback, it enhances the ability of existing staff to manage peak call volumes by shifting return calls to non-peak times.
24/7 Round-the-clock monitoring
Whether your contact center utilizes an in-house or outsourced IT team to develop and monitor your contact center infrastructure, it is extremely important to keep a close eye on the Genesys software performance. Genesys offers built-in tools that leverage a Management Layer for configuring important warnings & alarms. Even though the GIR solution is not completely integrated within the framework, there are still ways to monitor and parse the logs with 3rd party solutions. Moreover, you can also track important non-Genesys products, like load balancers, web servers, databases, etc. to prevent serious outages.
Let the Experts Handle It
Miratech operates the largest Genesys competence center outside of Genesys. With over 200 dedicated Genesys engineers, supporting the largest and most complex installations worldwide, our relentless performance ensures the success of every Genesys implementation we take on.
So, whether you need help implementing Genesys, safeguarding the configuration of your platform, or recovering from disaster, Miratech is the partner you need.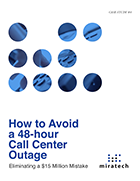 $15 Million Contact Center Outage
Avoid the Mistake