5 Biggest Pitfalls to Avoid in Your Contact Center Digital Transformation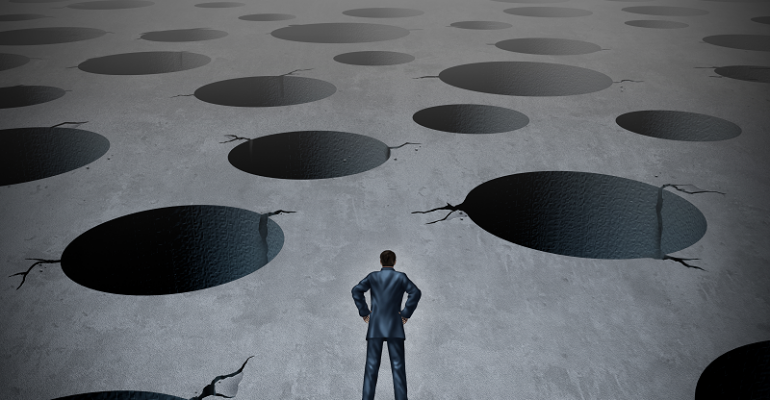 5 Biggest Pitfalls to Avoid in Your Contact Center Digital Transformation
A Digital Transformation is much more than adopting a new software or platform. It's about adapting your entire organization's business processes to leverage new technologies and keep up with customers' demands. Too many Digital Transformations look to take existing business processes and simply recreate them within a new system. STOP RIGHT THERE!
When it comes to your contact center, attaining your company's vision and objectives for improving customer experience becomes even harder. Why? Because your customer controls their experience as much as you do. Aligning your internal processes with cutting-edge technology sets a clear path toward, not only an optimized and seamless customer experience, but increased customer engagement and satisfaction. But, before carving out a plan toward new developments, you must first examine the health of your current practices to define issues within the existing framework of your contact center infrastructure and workforce. It begins with analyzing and restructuring your support services, internal processes, resources and skills around a shared organizational vision is imperative in order to enhance and improve the entire customer experience, especially before implementing a new system like Genesys.
Setting the Stage for Your Digital Transformation
Undergoing a Digital Transformation for a Contact Center is focused on optimizing the customer communication journey, which should include several components, like anticipating customers' actions and needs, developing a proactive response chain, and developing agents' skills that include both digital competence as well as establishing amicable verbal delivery.
Creating a seamless track of conversation increases customer engagement, encourages customer satisfaction, and ultimately propels sales. During the development phase of the transformation for your contact center, it's essential to build a solid foundation of priorities, planning and devising a customized roadmap that clearly defines your company's objectives. This is imperative to ensure that the internal company culture aligns with those objectives, there is integration of voice and digital channels full compatibility and fluency for customer support, and your front-line staff is educated and apprised of the tools, processes and overall objectives.
With all this in place, you are sure to achieve a streamlined and efficient Digital Transformation, but there are still certain areas where organizations often struggle. Here are the 5 biggest pitfalls that commonly occur in contact center digital transformations and how to avoid them…
1. Lacking Omni-Channel Communication Capabilities
Pitfall: Customers want flexibility and versatility when it comes to their method of communication. Being able to choose the most suitable channel for their unique situation will set the stage for a positive experience. Companies must feature multi-faceted communication options in order for customers to personalize their journey.
Solutions: There are a myriad of contact options to satisfy customer preferences and circumstances including voice, email, web chat, SMS, social media, and even video chat. Be sure to integrate as many of these as possible. Consider outlining a detailed map that connects customer requests with certain touchpoints; this will allow you see how to best utilize digital functionality.
2. Leaving Gaps in Customer Communication History
Pitfall: It is arduous for a customer to reach out to a support channel for help and explain an issue in detail, only to repeat their story to all future agents they come into contact with. Without documenting the communication history, the agent has no reference point or background, requiring the customer to rehash past conversations.
This leads to customer frustration and dissatisfaction. From a business standpoint, it's counterintuitive and inefficient for customers and agents to engage in repetitive conversations.
Solution: By documenting the conversation track and making it transparent to all future agents in the communications chain, the customer can connect with any agent in your organization and not have to reiterate their concerns and questions.
This streamlines the customer journey and improves efficiency on all lines of communication.
3. Using 3rd Party Applications That Don't integrate seamlessly
Pitfall: Not all applications are cut from the same mold. Companies need to choose third party solutions that integrate seamlessly for customer communications. These include webchat, SMS applications, and more. Otherwise the communication means are fragmented and incongruous; the information is not funneled properly into tracking systems that create a unified customer journey.
Solution: Use 3rd party applications that can be coherently implemented into your contact center platform, such as the Genesys dashboard. Seamless integration directly correlates to cost savings and efficiency, getting your business on track to its vision on-time and on-budget.
4. Not Creating a Scalable Contact Center
Pitfall: Scalability is vital to the growth and evolution of any business. Agents' skills need to be diversified enough to handle multiple communication channels. interactions or not having a large enough/skilled enough team to handle an influx of concurrent interactions, hinders your ability to scale capabilities and does not allow for an agile workforce, also not allowing customers to interact with the same support agent across multiple channels
Solution: Agents should be trained in all mediums, including both voice and digital systems. Providing your agents with multi-channel capabilities will give you flexibility when managing resources across all channels and customers would be able to interact with the same agent across different channels to get their issues resolved
5. Don't Let Complexities Compromise the Process
Pitfall: Beware the domino effect of system transformation – a single change can set off repercussions down the line. The technology has to support those modifications with minimal consequences, if any. Sometimes impact is unavoidable, and systems need to be in place to manage any ramifications.
Solution: Organizations need take a proactive approach to transformation, insuring they have a solid knowledge base of the complexities as well as an awareness of issues that may arise as a result of certain decisions. It's crucial that everyone on your development team understand the full capabilities of the new platform so that it can be utilized to its potential.
At Miratech, we build a solid foundation during the planning and development stage of digital transformation projects. This enables us to determine pitfalls before they they can even occur. Our engineers then stay on course throughout the implementation, keeping one step ahead on a track to success.
Contact us today to ensure the success of your Genesys Implementation and contact center digital transformation.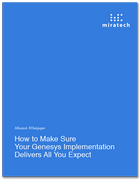 How to Guarantee Genesys Implementation
Find Out Now