10 Things You Must Do Before Transforming Your Contact Center with Genesys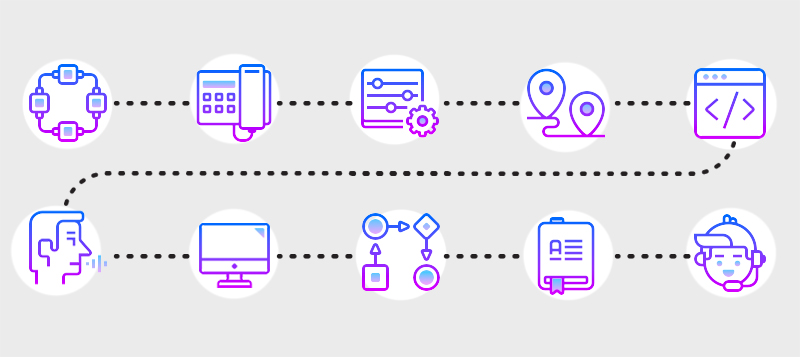 10 Things You Must Do Before Transforming Your Contact Center with Genesys
Your team has worked to develop the vision for your contact center transformation, to ultimately improve your customer experience and create more efficiencies in your operations. With Genesys as your technology solution of choice to put your vision into action, you are ready to prepare for implementation. But, stop right there…
Are you aware of the things that are imperative to have planned and completed before you can even consider beginning your Genesys implementation? Before you can even secure the Genesys solution, there are 10 things you MUST do first!
These preparations are not only required, but they can actually jumpstart your implementation process, getting your team at least 90 days ahead of the curve. And, tackling the most time intensive part of implementation planning, ahead of time, will give you that advantage.
Here's what you need to complete before you can configure your Genesys platform:
 1. Network Design
Calls coming into your contact center are routed to thousands of destinations. You must ensure your phone company provides the accurate bandwidth necessary to handle the expected volume, including MPLS (Multiprotocol Label Switching), to guarantee continuity. This step typically takes up to 90 days, so budget accordingly!
2. Session Internet Protocol (SIP)
Most likely your voice contacts will be exclusively VoIP (Voice over Internet Protocol). You must be sure that your endpoints – desktops and phones – are configured correctly with the right software for quality communications.
3. Session Border Controller
The SBC (Session Border Controller) is the demarcation point of the network – it's the network gatekeeper.  It regulates the signaling and media streams for routing and terminating calls to the correct endpoints.  A critical hardware or software component for your network security.
4. Routing Methods
Routing Methods are necessary to determine the customer call flow and scenarios of your contact center. Is your system completely automated? When does a customer get routed to a live agent? Will the contact be recorded? How will reporting for your routing process be handled? All this should be decided up front to ensure the necessary configurations are in place for the best customer experience possible.
5. Software Considerations
The Genesys platform does not work in a vacuum. There is an array of software that integrates into the system in order to enhance its functionality and connect information throughout your contact center. This includes all of the software you will need to build your contact center infrastructure that participates in providing a good customer experience – database, CRM, workforce management, etc. You will want software that attaches customer data so that once you have it, it can be utilized for routing, reporting, efficient service and reducing overall customer effort.
6. Interactive Voice Response (IVR)
Interactive Voice Response allows your customers to use self-service for their issues, streamlining solutions and connecting them to live agents only when necessary.  Defining things like how many options and steps will be included in the automated responses (ex. "Press 1 for Reservations") will aid in mapping the process of routing the call to the right agent, if needed.
7. Agent Desktop Configuration
The Agent Desktop is the hub of customer data and insights.  You'll want to define what information the agent will need to be able to view, as well as which media channels customers will be able to contact them by, including landline, mobile, desktop, email and even live chat contact methods.
 8. Work Streams
Workstreams are the foundation of your contact center operations. When you're building a contact center you need to define how information will flow throughout the organization. And, you have to enable the people that need to operate in the work stream in order to allow them to make fast and smart decisions. This planning is critical, otherwise, your contact center will be prone to issues.
 9. Education Plan
Implementing new technology in your contact center comes with new operating procedures. You need to be sure everyone along the contact path is properly trained and aware of any new processes in order to ensure everything runs smoothly. This includes agents and technical teams alike.
 10. Agent Experience
It takes great agents in your contact center to deliver a great customer experience, so your agents need to be prepared for anything the caller throws at them. That includes knowing how to find an appropriate solution in every situation and how to work a script. If your agents are trained well and you can create the right environment to make your agents happy, you can count on good results and happy customers!
Get Ahead of Your Genesys Implementation
Miratech has years of experience configuring contact centers for optimum performance. That's why we know how to guarantee a successful Genesys implementation. We also know that it all starts with the planning and preparation that must take place before you even begin.
Whether you're just beginning your contact center transformation journey or you're getting ready to implement your Genesys solution, Miratech can help you guarantee success!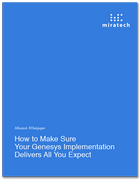 How to Guarantee Genesys Implementation